The Brazilian soccer star Neymar Jr. has been accused of sexual assault.
Continue on to get more details on Neymar Jr. accused of rape by an unidentified Brazilian woman…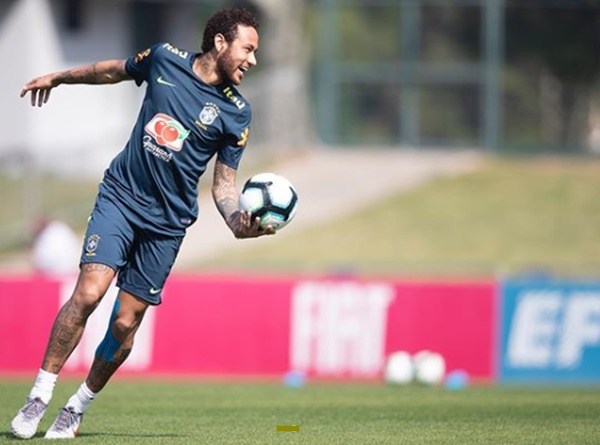 CelebNSports247.com has learned via police reports, that soccer star Neymar Jr. has been of rape by an unidentified Brazilian woman while he was in a hotel in Paris where he plays for the Paris Saint-Germain squad.
The woman alleges that Neymar Jr. attacked her in a Paris hotel. According to the victim, she began to connect with Neymar through Instagram with one of his personnel booking a flight and hotel room for her to meet the professional soccer player.
The report was filed in Sao Paolo claiming that the Paris Saint-Germain soccer player showed up drunk to the woman's hotel room on the night of May 15th, alleging that Neymar and the woman "touched each other, but in a given moment Neymar became aggressive and, with violence, had sexual intercourse against the victim's will."
The player's father and agent Neymar da Silva Santos Sr. maintains that the accusations are false and that the woman planned to "trap" his son.
Of course, the woman is claiming that she failed to file a report while in Paris because she was in shock
Neymar, Sr. told TV Band:
This is a tough moment. If public opinion is not cleared up, and if we can't show the truth rapidly, this will snowball. If we have to show Neymar's WhatsApp and the conversations with this girl, we will, because it is clear that it was a trap.
In a statement issued on Neymar's official site, the star's management issued a statement that denies all allegations on Neymar's behalf.
the statement reads as follows:
Although he was surprised by the news, the facts were already known to the player and his staff, considering that a few days ago he was the victim of attempted extortion, practiced by a lawyer from Sao Paulo who said he represented the interests of the alleged victim. The player's lawyers were immediately notified and have since taken all appropriate steps. We completely repudiate the unjust accusations and, above all, the exposure in the press of an extremely negative situation.

Once again to all athletes. If you are going to fly women to hook up with you on the road, videotape her on your phone saying that she consents to sex or have her sign an NDA. Make sure to lock it down or get screwed like Neymar.
This seems like a money grab. Any woman who is flown to a man's hotel should know that it is for sex. He is NOT trying to talk and get to know you if you come off like a groupie wanting him. FACTS!
Neymar seems to be a victim of a money grab.