NFL Not Fining Jadeveon Clowney For Dirty Hit On Carson Wentz!
Well, the news is in and Seattle Seahawks defensive end Jadeveon Clowney is in the clear. Read on…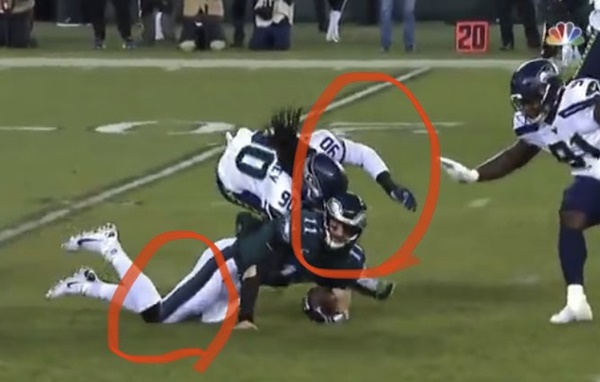 CelebNSports247.com reports that the NFL has reviewed the dirty hit by Seahawks Jadeveon Clowney on Eagles quarterback Carson Wentz to determine if it was worthy of a fine.
It appears that the NFL will NOT be fining Seattle Seahawks Jadeveon Clowney for knocking out Carson Wentz with the alleged dirty hit.
The announcement is somewhat surprising given Clowney hit appears to check more than one player safety box. Following last Sunday's game Jadeveon denied that he tried to make a dirty hit, and Eagles LT Jason Peters called him out about it.
It just goes to show the NFL is quite as concerned with player safety as they claim to be or could they be covering their butts because of the possible blowback?
The NFL decided not to fine Jadeveon Clowney for his hit on Carson Wentz during Sunday's playoff game, according to a source. Clowney was not penalized during the game by the on-field officials, who ruled the hit legal, and no fine by the league.

— MarkMaske (@MarkMaske) January 11, 2020
Despite the NFLs call to NOT fine Jadeveon Clowney, here is what is being said:
Yup, nothing illegal about spearing a player in the head pic.twitter.com/qInDSsqMwN

— Peter Froelich (@peter_froelich) January 11, 2020
League doesn't want any attention on all the blown calls, pathetic

— Fran M. (@anonymous2384) January 11, 2020
Doesn't matter, because it won't change the fact that @Eagles are out. What it does do is it promotes players to lie about their injuries to stay in important games. Awesome job @nfl #playersafetyfail

— Ryan Main (@mainsourceent) January 11, 2020
You've said a lot of dumbass shit on this god forsaken site, but this is potentially the most egregious. Russ has done nothing wrong. Fuck outta here lil man.

— Darron Barris (@HoldTheLine23) January 11, 2020
His shoulder was the first that contacted Carson and it was to his back idk why people keep calling this a dirty helmet to helmet hit pic.twitter.com/9HFPn3PLs5

— Cellaveli? (@OgCellous) January 11, 2020