NFL veteran Ryan Russell played defensive end for the Dallas Cowboys and Tampa Bay Buccaneers from 2015 through 2017, but Russell struggled in hiding that he was bisexaul.
So why did Ryan Russell decided that now was the right time to come out? Well he reveals all in his own words on the pivitol moment that made his decide it was time to be honest with himself and/or his potential football employers. Read on for more on NFL Vet Comes Out as bisexual…
CelebNSports247.com reports that NFL Vet Comes out bisexual after an unnamed NFL team didn't add him to the roster for 2019.
Ryan Russell worked out hard for the unnamed NFL team earlier this fall, hoping to win a spot on their roster but the free agent didn't make the cut. It was then that he realized it was time to be truthful about his sexaulity.
The former Purdue football star opened up about his sexuality and who he is in the piece:
Have I lied to teammates, coaches, trainers, front-office executives and fans about who I am? Not exactly. But withholding information is a form of deceit. And I want the next part of my career — and life — steeped in trust and honesty. During the season you spend more time with your team than with your own family; truth and honesty are the cornerstones of a winning culture. My truth is that I'm a talented football player, a damn good writer, a loving son, an overbearing brother, a caring friend, a loyal lover, and a bisexual man.

Today, I have two goals: returning to the NFL, and living my life openly. I want to live my dream of playing the game I've worked my whole life to play, and being open about the person I've always been.
Russell went on speaking about his rookie season, when an unnamed sports blogger contacted him and threatened to out the star.
The 27-year-old said:
After my first season, a well-known blogger messaged me. He had come across an Instagram story of a man I was dating that included a quick snippet of me in the background. Even though the man and I were never in a post together, the dates, times and similar locations were enough evidence for the blogger to deduce that we were an item. The blogger could have revealed I was in a gay relationship. My professional world and the personal world were colliding with me caught in the cataclysm. I panicked, then wrote back, reminding him that there were implications about his actions he didn't fully understand. If the blogger outed me, I was sure that would kill my career, one that was supporting not just me, but my mother and grandfather. He'd eradicate a childhood dream that was the product of years of work and sacrifice.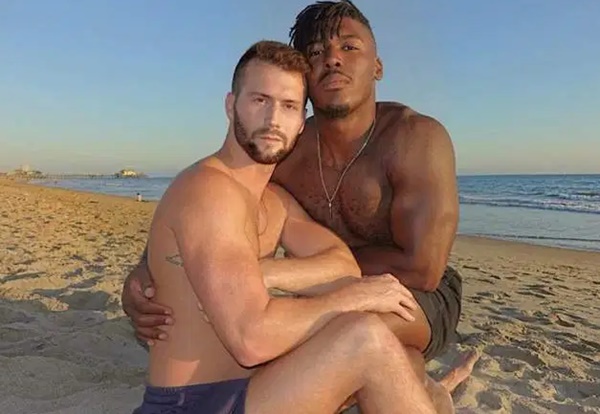 He goes on to reveal that the blogger never outted him.
Russell adds:
After hearing me out, know what that blogger told me? That he would grant me this favor, but that I should be more careful.
That stuck with him and so he realized what he had to do for himself, not for anybody else:
Let that sink into your brain: Even though openly LGBTQ people are thriving in every area of public life — politics, entertainment, the top corporations in America — they are so invisible in pro sports that a gossip blogger is doing a favor for a bisexual football player by not disclosing that he happens to date men. Nobody should need a favor to live honestly. In nobody's worlds should being careful mean not being yourself. The career you choose shouldn't dictate the parts of yourself that you embrace.
Before Ryan Russell was cut from the Bills in 2018 he logged 21 tackles and three sacks over 23 regular-season games in his career; he even started seven games for the Buccaneers in 2017.
Our Thoughts:
The one thing we would like to say is this, "we support Russell for stepping up for himself because at the end of the day we all want the same thing, and that is happiness." Life is what you make it. It doesn't matter about your skin color, your background, who you date male or female, its about being with someone you love and someone to share your life with and grow. Not every man is for a woman and not every woman is for a man, sexuality is not a choice and everyone needs to understand that. Lastly, just be you, the best you!