NOOOO, NOT Cristiano Ronaldo's Face! Cristiano made the game winning goal but not without a bloody encounter. He planted his face in a cleat and lost some skin in the process.
Cristiano Ronaldo was a bit PISSED off after a quick mirror check on the nearest phone. Read on to see his bloody aftermath…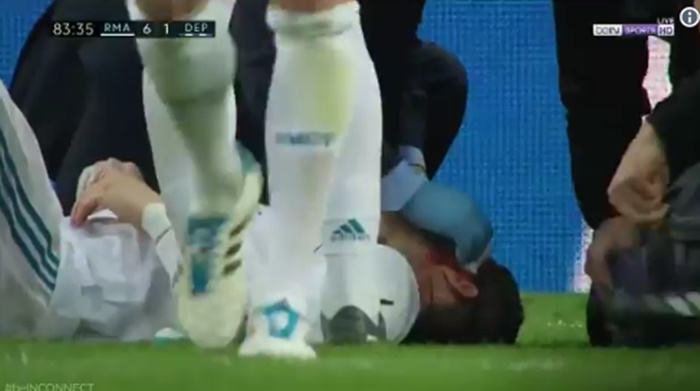 CelebNSports247.com got word via beIN Sports USA that the Real Madrid striker, Cristiano Ronaldo suffered a nasty injury Sunday in the final few minute the match.
See, Cristiano Ronaldo and his Real Mardrid team was up against Deportivo. When it came time to take his team to victory, he took a game winning shot, but not without a bloody result.
Cristiano was able to walk away with a bloody face from a cut near his eye.
You could clearly see that was PISSED after he used a team medic's phone to check out the damage to his money-making looks.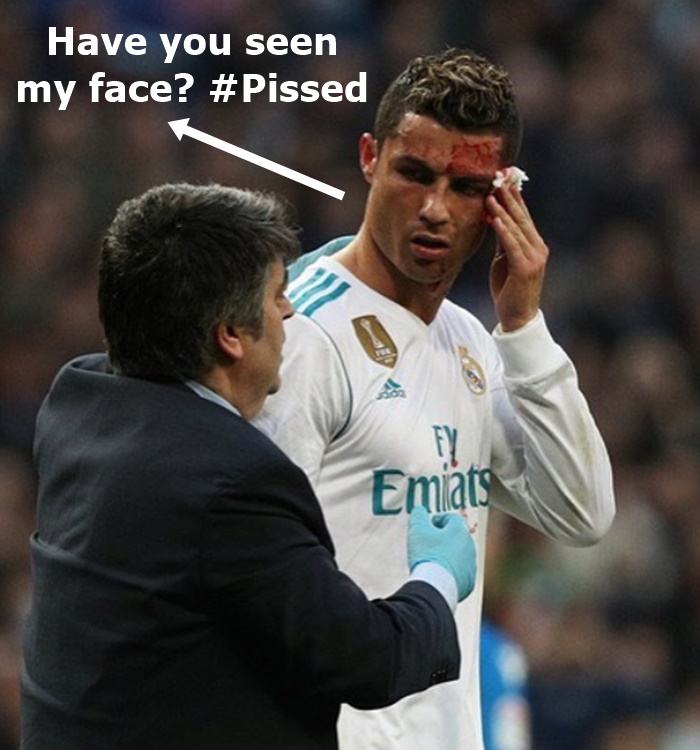 He was literally annoyed. You could see it all over his face.
[rpi]
The Real Madrid won over Deportivo 6 – 1 in the 84th minute. At the end of the day, Ronaldo took one for his team, but we don't think he'll get this cut up ever again. When you watch the video, you can see the goal itself looked pretty sick from our POV.
Take a look:
<blockquote class="twitter-video" data-lang="en">
AND ANOTHER!!!!@Cristiano takes one for the team, but gets a second goal for his efforts. pic.twitter.com/fQb9Bd6YAy
— beIN SPORTS USA (@beINSPORTSUSA) January 21, 2018
Sorry Cristiano, but scares make great bedroom talk.