Odell Beckham Jr. Trade Possible Via Cleveland Browns
The Cleveland Browns did all they could to ensure they would have a good team on the field in 2019.  Well, that has all changed since the Browns currently sit with a record of 2-6 and in 3rd place in the AFC North.
And of course, the Browns are pointing the finger at Odell Beckham Jr., one of their biggest acquisitions, who may be put up for trading if things don't turn around. Read on to see why the Browns are thinking of an Odell Beckham Jr. trade…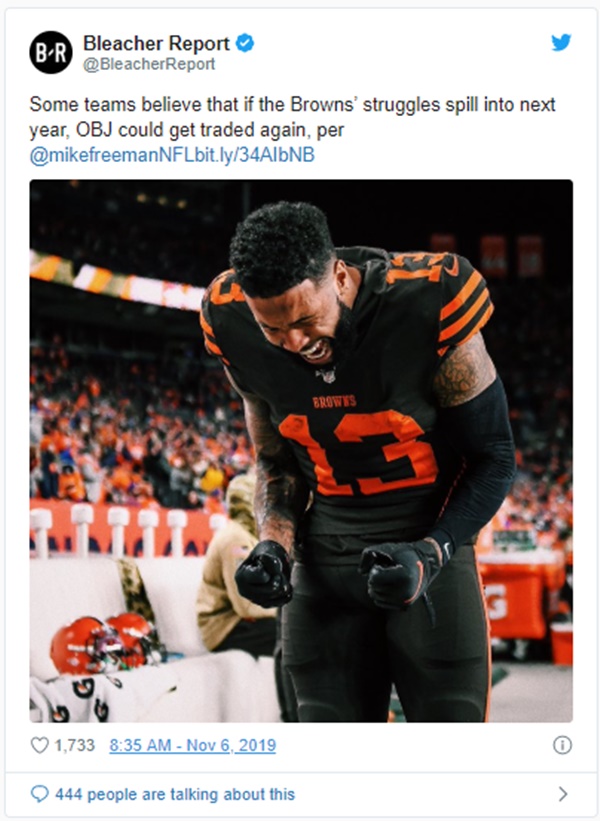 CelebNSports247.com reports that if the Browns struggles in 2019 continue into early 2020, Odell could find himself on his way out of town.
Mike Freeman of Bleacher Report has this to say about Odell Beckham Jr.:
That's why there are some teams that believe if the Browns continue to struggle this year, and those problems stretch into early next season, Beckham could get traded again.

It wouldn't be easy.

…Beckham could be traded after the 2020 season with no salary-cap damage.

Two NFC team officials said they don't see Beckham getting traded this offseason, but one of them said, "The vultures will be circling if the Browns keep sucking.
Why an Odell Beckham Jr. Trade Possible Via Cleveland Browns?
Freeman states that Beckham would want out of town if the team continues to trend downwards.
Odell only has one touchdown thus far but that could be contributed to poor coaching on the part of Freddie Kitchens who is clearly over-matched to be a head coach.
QB Baker Mayfield is also suffering in his second year in the NFL, this can't all be the player's fault, this usually comes from the coaching. Mayfield is actually the only QB in the league with more interceptions than touchdown passes when not under pressure.
Let's NOT forget that Odell and Mayfield have NOT been clinking. That has a lot to do with things not working right.
Odell has already stated how much he would love to play with Tom Brady, and after the franchise was forced to release Antonio Brown.
Could Odell be heading to the Patriots?
What do you think of the Browns Trading Odell Beckham Jr.?