Golden Boy Promotions head honcho Oscar De La Hoya had spent the past five months being very vocal about the Floyd Mayweather-Conor McGregor fight. De La Hoya was against the UFC vs boxing match, but now he's talking about Canelo beating McGregor?
Would Conor McGregor even think of taking on this fight? He said more opportunities would present themselves. Read on and find out what Oscar De La Hoya is saying now…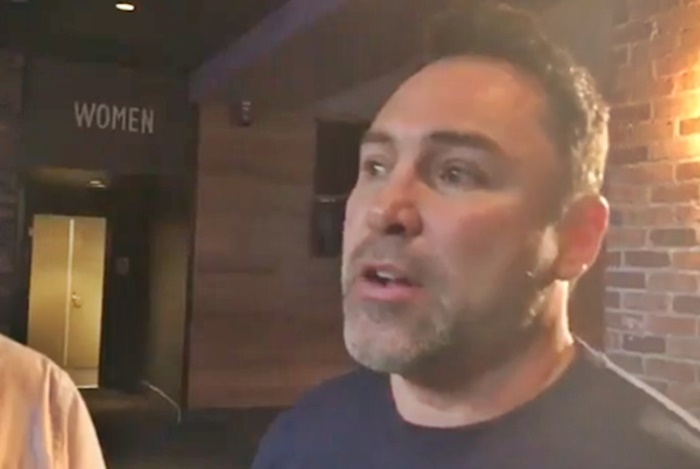 If this is true, then Oscar De La Hoya is basically playing follow the leader since Mayweather won the fight. Floyd also announced his retirement from boxing after the fight. Mayweather has officially ended his career with his 50th win.
Oscar De La Hoya admitted:
"I didn't watch Mayweather-McGregor but Canelo Alvarez would finish Conor McGregor in one round."
[rpi]
Now, De La Hoya said that the fight would have been much shorter had McGregor faced Canelo Alvarez. Oscar is saying that Canelo would have won by TKO against McGregor within the first round.
Oscar De La Hoya says he didn't watch Mayweather-McGregor but believes Canelo Alvarez would finish Conor McGregor in one round. pic.twitter.com/kCTaYuEt9k

— Arash Markazi (@ArashMarkazi) August 28, 2017
Mayweather's strategy of letting McGregor tire out before going on the offensive certainly extended the fight. We figured that Mayweather would be a genuine sportsman about the match. But De La Hoya figures that it would have been a better fight if he had faced an aggressive-minded boxer like Canelo.
De La Hoya added that he believed Mayweather let McGregor take a few of the early rounds.
Here is what Oscar said to MMAFighting:
"Because Mayweather let him. The first four of five rounds, he let him do that. … The punches are coming from different angles. It was a bit awkward to watch, actually."
Canelo will face Gennady Golovkin on Sept. 16.