In addition to getting engaged last night at the MLB Home Run Derby Mets slugger, Pete Alonso had an EPIC night.
The Home Run Derby was one for the ages, although most fans weren't too fond of the outcome.
New York Mets slugger Pete Alonso won the 2019 Home Run Derby. Later, he revealed his championship chain bestowed upon him by Daddy Yankee. Continue on for more on Pete Alonso "dreaming" after Home Run Derby win…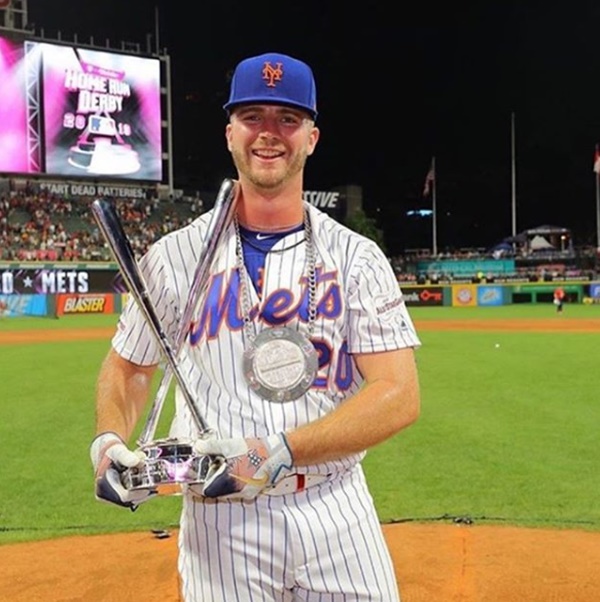 CelebNSports247.com reports after winning the MLB Home Run Derby Pete Alonso showed off his Home Run Derby championship chain from Daddy Yankee.
Pete Alonso beat out Vladimir Guerrero Jr. who hit a ridiculous 91 homers in total on the night. Many felt that Vlad deserves the trophy — and the $1-million that comes with it — as he hit a whopping 34 more homers than Alonso.
Despite all the criticism, the Mets' rookie has got to be one happy dude at the moment.
Pistol Pete took to social media to say:
I'm sleepwalking, I'm dreaming out my fantasy, and I don't want to wake up. I'm still so damn shook that this happened last night. Bless up #LGM ?
Here is what he said about winning the 2019 MLB Home Run Derby via ESPN:
Not only is the $1-million prize almost double what he's making this season with the NY Mets, hi hot fiance Haley Renee Walsh was there cheer him on and spend that money.
Since Haley Renee Walsh sudden spike in publicity has caused her to turn her Instagram account private.
Oh well, here are some pics of Pete and Haley: