Boston Red Sox legend David Ortiz aka "Big Papi" was shot while hanging out at a nightclub Sunday in the Dominican Republic!
We can't believe that David Ortiz aka "Big Papi" was shot in the back at the Dial Bar and Lounge in Santo Domingo. Continue on to get more details on Red Socks David Ortiz Shot In Back…
La herida de @davidortiz fue en una pierna y uno de los responsable fue detenido. El ex pelotero fue sacado del lugar en una unidad del @Sistema911_RD pic.twitter.com/lwM8GDbTto

— CDN 37 (@CDN37) June 10, 2019
CelebNSports247.com reports that 43-year-old was at Dial Bar and Lounge in Santo Domingo when a gunman burst into the place and opened fire, striking Ortiz once.
Boston Red Socks retired star David Ortiz was immediately rushed to a nearby hospital for treatment. His condition is unknown at this point. The shooting is senseless as a man walked up behind Ortiz and just gunned Big Papi down.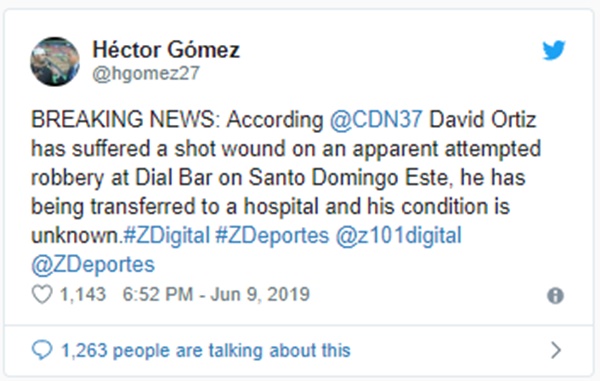 Ortiz's father, Leo Ortiz, confirmed the incident to ESPN, saying:
They called to tell me that David is injured and that they took him to a medical center, but they did not tell me how he is or exactly where he was transferred.
The suspect has reportedly been arrested.
Ortiz was a 10-time All-Star during his pro baseball career and his #34 jersey has already been retired by the Sox.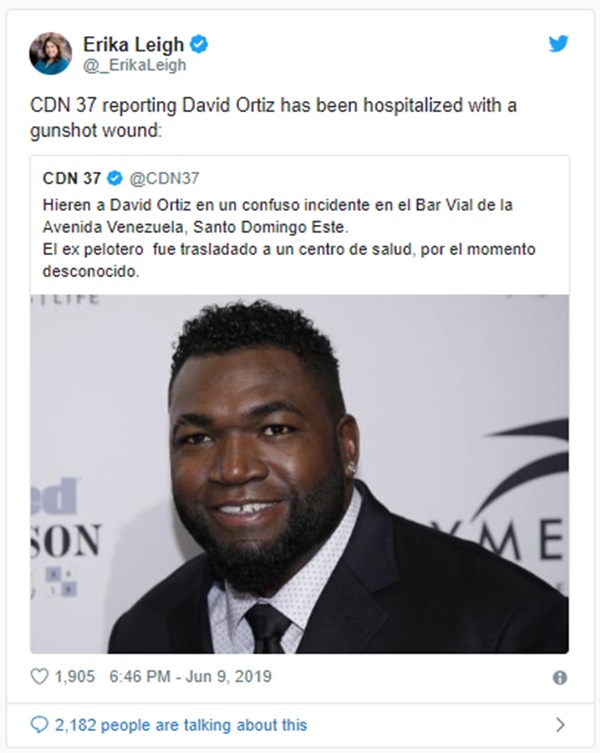 Story developing …