Oklahoma City Thunder's Russell Westbrook made history as he clinched averaging a triple-double for the year. For some reason his F-bombs are standing out more that the history making event that went down against the Pheonix Suns. Kobe Bryant even weighs in!!!
Flip and get the latest media miss, except for us on Russell Westbrook…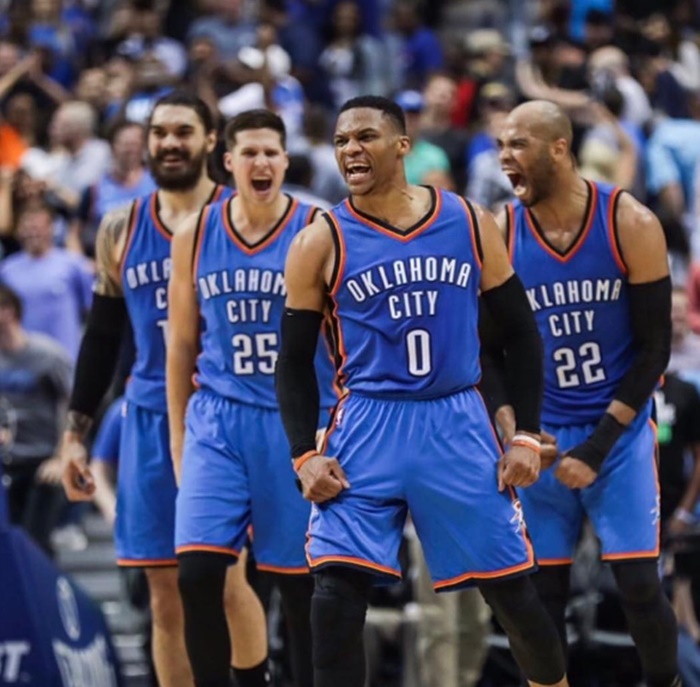 Russell Westbrook is the second player in the NBA to accomplish a triple-double for the year.
Not since Oscar Robinson 1961-62 year have we seen a player as talented as The Big O, who played for the Cincinnati Royals and Milwaukee Bucks. It was once said that Oscar Robertson's record of 41 triple-doubles in a season was supposedly unbreakable.
Russell Westbrook triple-double Record:
Well, guess what? The Thunder point guard, Russell Westbrook turned into a triple-double cannonball.
Westbrook already has tied Robertson and has three games remaining to break the record while he's also locked up a triple-double average for the season. Who knew we would see this happen? It's been over 55 years since a NBA player could match the Big O.
[rpi]
Instead of being asked about making history and tying up with the legendary Oscar Robinson, this is what happened. Westbrook was asked why he ignored a couple of shots he would normally take to pass the ball. Apparently he noticed that he was off his game on Friday, especially after being asked him about "hunting assists."
The Oklahoma City Thunder player smiled as he bluntly responded:
"I mean I was 6 of 25, f—, what do you want me to do?"
Russell Westbrook on Chasing Assists: "I mean I was 6-25, what the fuck you want me to do?" #ThunderUp pic.twitter.com/1Q4SbDsVuw

— SotoSports Tv (@SotoSportsTv) April 8, 2017
Kobe Bryant thought the question was "silly."
Bryant weighed in on ESPN senior writer Ramona Shelburne:
"He averages a trip dub for the season @ramonashelburne and this is the kind of question he gets #silly."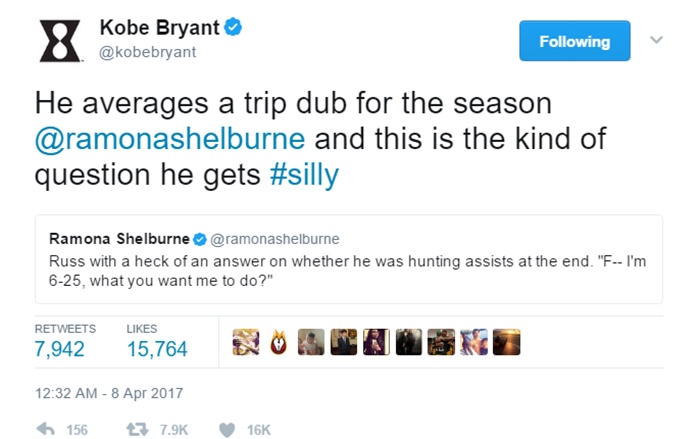 Thoughts?