During the All-Star Weekend, we saw DeMarcus Cousins learning that he was traded during a press conference. Then, Russell Westbrook get quick-witted when the press tries to milk him about Kevin Durant.
You have to see how Russell Westbrook handled the press during the 2017 All-Star Weekend in New Orleans…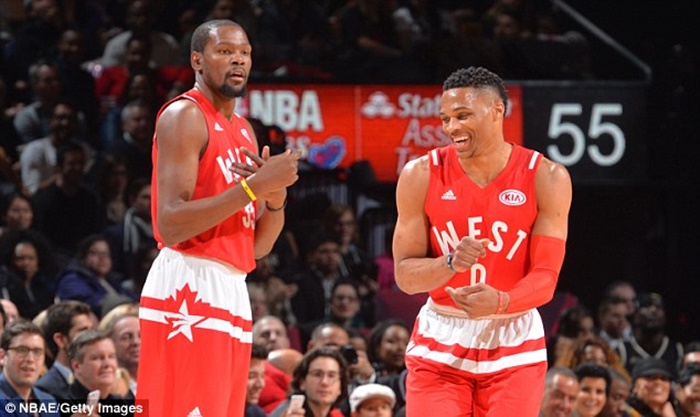 All-Star weekend had some monumental moments over this past weekend. The basketball world was treated to quite the moment Sunday night when former Oklahoma City Thunder teammates Russell Westbrook and Kevin Durant hooked up.
Russell Westbrook and Kevin Durant were joined forces for an alley-oop during the 2017 NBA All-Star Game. When Durant and Westbrook teamed up for the alley-oop, the Western Conference bench lost its mind. Everyone was wondering how Durant and Westbrook would play together since he left Oklahoma City for the Golden State Warriors.
Fans got their news, and the press was ready for a huge helping of scoop. Instantly, that opened the door for all sorts of speculation and questioning from the press. Fans and press assumed that it was a healing moment for the seemingly broken relationship.
[rpi]
Was it? Despite whatever it looked like to everyone, the only two who know what that moment was is Russell Westbrook and Kevin Durant.
When the press thought they'd dig for info, Westbrook laughed it off and played clueless with the press, CelebNSports247.com has learned!
Check it:
Thoughts?
Photo: Christian Petersen/Getty Images