Some San Antonio Spurs fans are hoping to lure DeMarcus Cousins to Texas with a billboard.
Yes, we said a billboard, some San Antonio Spurs fans purchased a DeMarcus Cousins billboard to get him signed with the Spurs. Is it working? Read on to see San Antonio Spurs Fans Purchase DeMarcus Cousins Billboard…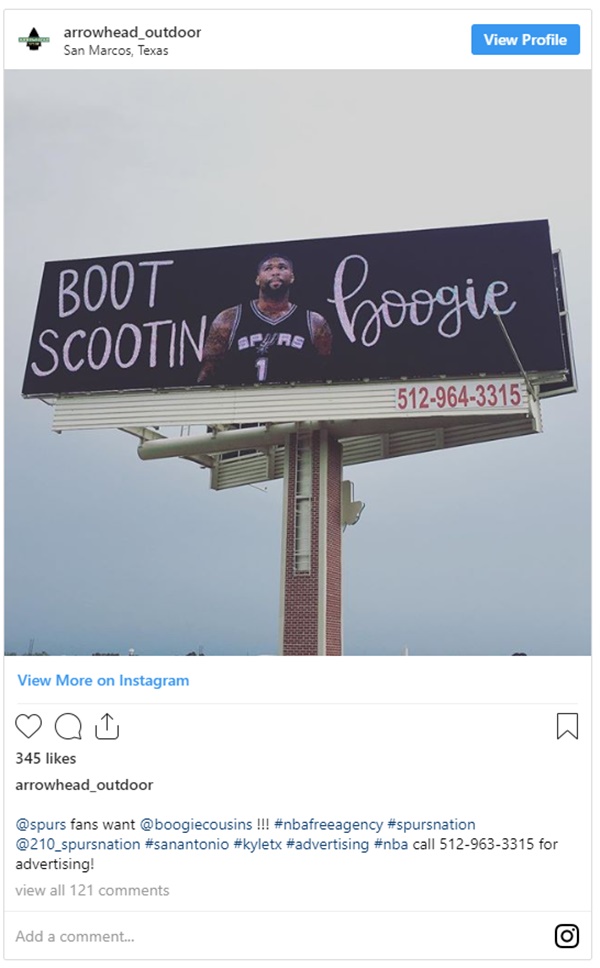 CelebNSports247.com reports that a billboard has popped up in San Marcos located about an hour drive away from San Antonio, so it's doing a lot of good. NOT.
San Antonio Spurs Fans Purchase DeMarcus Cousins Billboard.   The sign is in San Marcos is depicting the unrestricted free agent in a Spurs jersey, according to TheScore.
We previously reported that DeMarcus Cousins had been overlooked by every team in the NBA during the Free agency signings.
It's nice to see that Spurs fans want DeMarcus Cousins on their team since his return to the Warriors is uncertain.
CelebNSports247.com reported earlier in the week that four-time NBA All-Star, Cousins signed a one-year, $5.3 million deal to play for the Golden State Warriors last offseason. The problem why he is being overlooked is that Cousins suffered a serious Achilles' injury as a member of the New Orleans Pelicans the season before. Then he suffered another injury this past postseason that held him out until the NBA Finals.
We get the Spurs fans want him to play in Texas, but what about the Spurs themselves? Are they feeling like Cousins is a good fit?
So far it's been crickets.
The only thing that has "intrigued" teams is that Cousins has been in contact with star players across the NBA, including the Spurs' DeMar DeRozan. Cousins and DeRozan were teammates on the 2016 United States Olympic team. Maybe something will happen.