Earlier this week Pittsburgh Steelers holdout Le'Veon Bell took to social media to bid farewell to Miami.
Everyone assumed that he's finally ending his holdout and reporting to the team. That doesn't seem to be the case, read on to get more on Steelers Le'Veon Bell…

CelebNSports247.com Le'Veon Bell was allegedly spotted in Pittsburgh on Tuesday at an LA Fitness playing basketball.
It has been said that Le'Veon Bell is now changing things up and heading back to Miami following his farewell post:

Reports are now claiming that the Pittsburgh Steelers holdout Bell is considering returning to his extended vacation in Miami.
Reports are now coming out that Bell's team of advisors have reportedly uncovered new information.
It appears they're looking into seeing if Bell will be able to sit out and still be considered a third-year franchise player in 2019.
Writer, editor, sports guy and fan Thomas Carannante reported this on social media: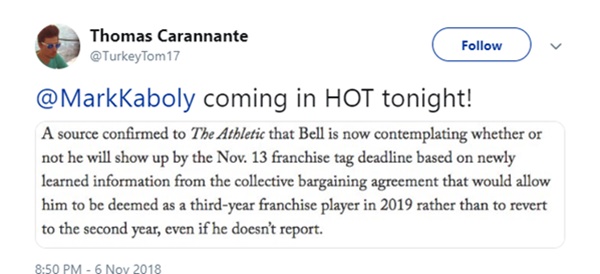 What will happen next, nobody but Le'Veon Bell knows, so until then, we will keep you posted.
At this point, the saga may never end. He's ruined plenty of franchise football seasons.
What are your thoughts on Bell?