Golden State Warriors star Stephen Curry made an announcement on social media today, but he made a HUGE mistake when announcing that he is giving out free tickets.
Stephen Curry omitted a couple of key details regarding his "free" party on Friday. Read on to get the tea spill…
CelebNSports247.com has the key details that you need to know before you head on down to Stephen Curry's SC30 x Oakland (472 9th Street) pop-up-store on Thursday.
Curry recovered his mistake taking to Twitter to clarify how to get those free tickets for Friday's celebration.
Steph said on Wednesday via Twitter:
Wow. Y'all wild for this one! How about telling people when to come by instead of the click bait! Tickets available This Thursday between 12pm-7pm. Limited, but Tickets are free. Don't have to buy anything! I will be at the Fox Theater on Friday.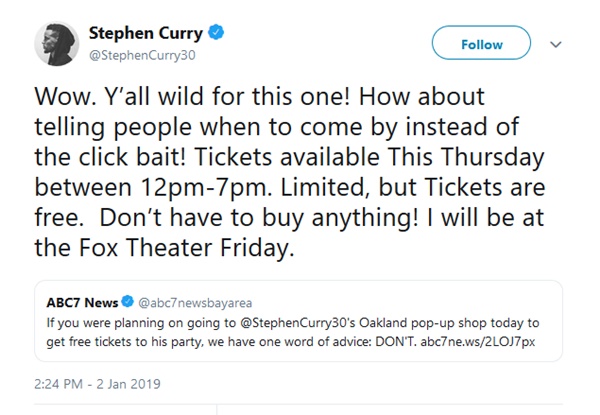 An earlier email from an Under Armour spokesperson sent to news organizations told a different story.
The email reads as follows:
A pair of tickets will be gifted to each customer at the SC30 x Oakland (472 9th Street) pop-up shop with a single purchase of any Under Armour and Stephen Curry product on-site ranging from accessories to t-shirts, hoodies and the Curry 6 Fox Theater colorway.
Bottom line, if you make a purchase of an Under Armour item you will receive tickets. Here are some choice purchases, an Under Armour Curry T-shirt for $26.25 or an Under Armour Threadborne Full Zip Hoodie will set you back $184.99.
Under Armour also made no guarantee all ticket holders would be let into the event featuring performers Mistah FAB, P-Lo, Saweetie, and E-40.
This means they are giving more tickets out than the venue will admit, so get there early to get inside.
Another Planet Entertainment, which promotes Fox Theater concerts, was closed Wednesday.