Tonight it is Steph Curry vs. Seth Curry – Yes, the Golden State Warriors and the Trailblazers are going head to head but what does that mean for Steph Curry and Seth Curry parents?
When it comes to deciding which son to root for, the Steph vs. Seth Curry's Parents plans to simply flip a coin. Read on…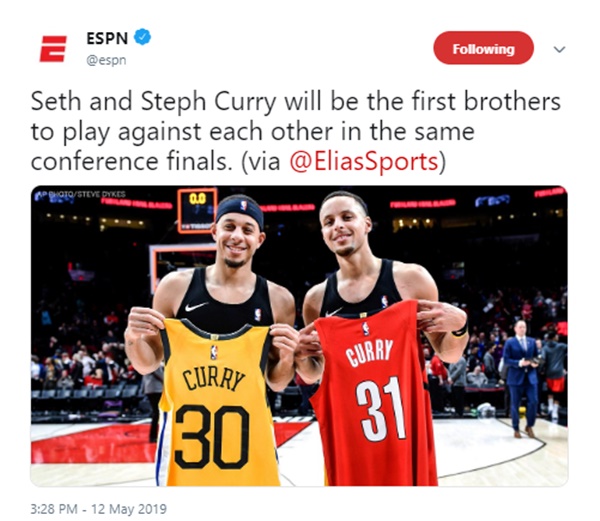 CelebNSports247.com reports that before each game Steph Curry and Seth Curry parents plan to determine who wears black and red, and who wears blue and gold.
Steph vs. Seth Curry's Parents Dell and Sonya Curry spoke to ESPN on how they're doing it.
Sonya said:
We are flipping a coin every game.
Meanwhile, their dad, Dell explained, per the AP
Well, we have to flip to see who flips first. There's going to be a lot of coin flipping going on.
Rachel Nicols of ESPN's The Jump took to Twitter to announce:
Seth & Steph Curry will be the first brothers to ever play each other in NBA conference finals. Sonya & Dell Curry told me their plan is to literally flip a coin to split which kid to root for/which parent wears which team's gear.
As for brothers Seth & Steph Curry, they've described the matchup as a "dream come true," and they're parents seem equally as excited to get the series underway.
Dell told ESPN:
It's going to be fun. It's going to lessen our travel schedule. That's the biggest thing. We've been traveling quite a bit. It's been fun, it's been tiresome, but it's about ready to get real now.
Sonya added:
It's going to be so much fun. It is. From our end, to see both of our sons to compete at this level and for the goal to be a championship is such a blessing. We never could imagine this. One of them might go home. But we're going to the championship!
Game 1 of the Blazers-Warriors series is set to tipoff at 9 pm ET on Tuesday night, airing on ESPN.
Other brothers who could have joined the brother vs brother conference finals club was Milwaukee's Pau Gasol and Toronto's Marc Gasol. The problem, Pau has been sidelined with a season-ending foot injury.