According to reports, Terrell Owens Has 'No Regrets' after he skipped the 2018 Hall of Fame induction ceremony in Canton, Ohio.
Read on to get all the details why Terrell Owens has 'No Regrets' skipping Hall of Fame…
One of the best wide receivers to ever do it ? @terrellowens received his @ProFootballHOF Ring of Excellence tonight pic.twitter.com/hsOjLs2zwK

— FOX Sports (@FOXSports) November 2, 2018
CelebNSports247.com reports that Terrell Owens hasn't thought twice about missing the experience.
Terrell Owens said Thursday, per the Associated Press:
I have "No regrets at all."
He went on to say:
If anybody knows who Terrell Owens is outside the media portrayal of me throughout the course of my career. They know what I did. I stand by what I did. … When they tried to bring other things outside my body of work and my accomplishments, that was an issue for me. My stats spoke loudly. They spoke for themselves.
Owens apparently held his own celebration at his alma mater the University of Tennessee at Chattanooga.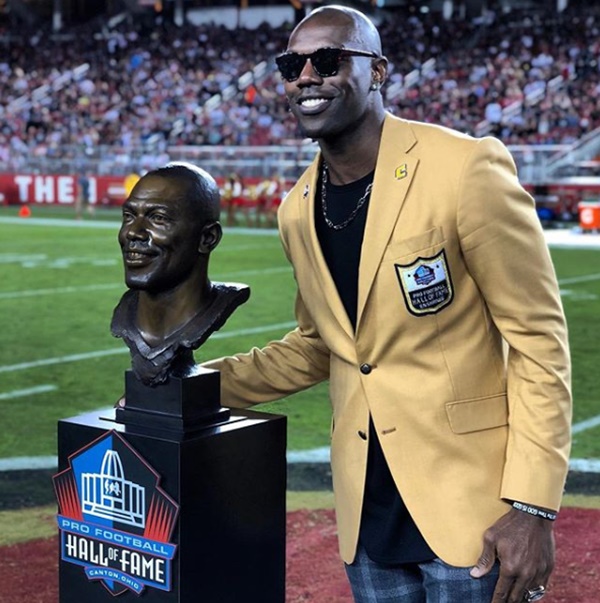 He received his Hall of Fame ring during halftime of Thursday's game between the San Francisco 49ers and Oakland Raiders at Levi's Stadium.
Why To skipped the HOF?
Owens was on the ballot for three years despite finishing his career as one of the best wide receivers in history.

He was a six-time Pro Bowler and five-time All-Pro selection who finished eighth in all-time receptions (1,078), second in receiving yards (15,934) and third in receiving touchdowns (153).

To Owens, it was notable the celebration came at halftime of San Francisco's 34-3 win since the franchise selected him in the third round of the 1996 draft.
His 15-year NFL career included time with the Philadelphia Eagles, Dallas Cowboys, Buffalo Bills, and Cincinnati Bengals.
In August he previewed his HOF statue: