Brazilian UFC light heavyweight title challenger Thiago Santos provided an update on social media after undergoing surgery on Wednesday in Los Angeles.
He address the ligament and meniscus injuries in his left knee and a meniscus injury on his right knee.  Continue on to get the news about Thiago Santos recovering…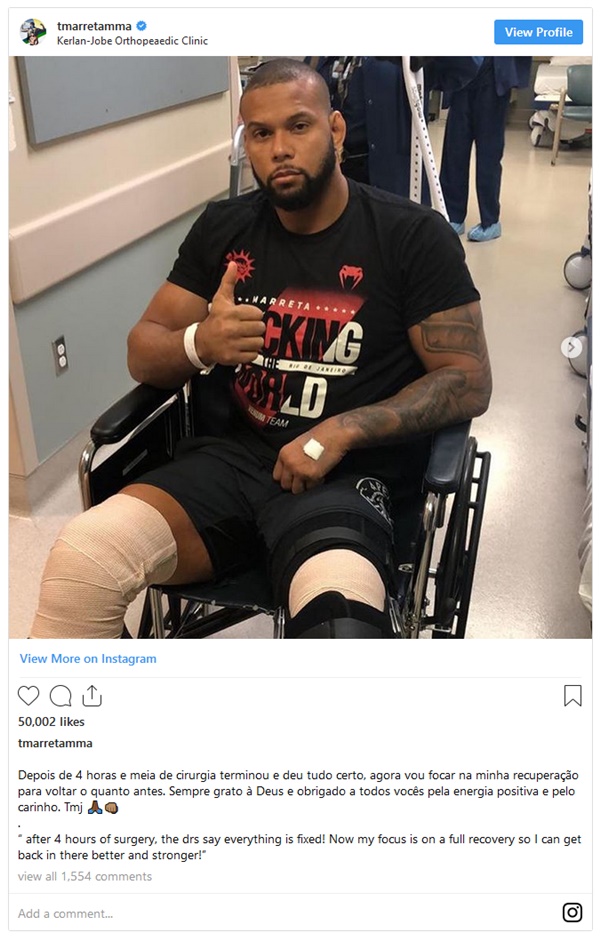 CelebNSports27.co reports that Thiago Santos is currently recovering from his injuries he sustained earlier this July when he ended up suffering from left and right knee ACL tear, meniscus tear, and tibia fracture.
Thiago was fighting Jon Jones, but lost the bout to the UFC Light  Heavyweight superstar at UFC 239.
UFC President Dana White gave mad respect to Thiago "Marreta" Santos who fought 5 rounds with his injuries.
White said earlier this month:
Thiago Santos left knee MRI [revealed that he had an] ACL tear, meniscus tear, and tibia fracture.
He let UFC fans know, at the time:
Surgery being scheduled next week… just got this text from the Dr. @tmarretamma fought 5 rounds on this leg and was kicking the entire fight!!!! Much respect Thiago.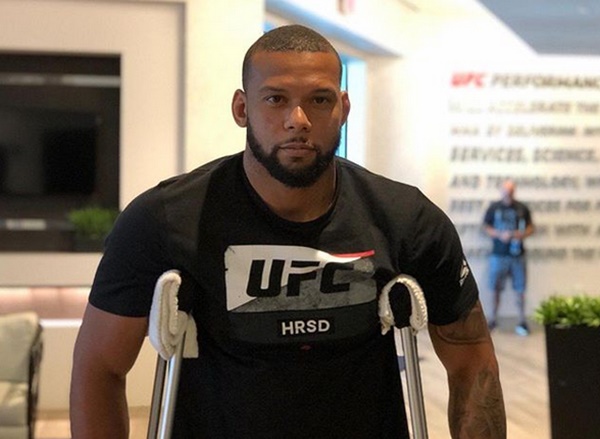 Well, now that surgery is behind Thiago "Marreta" Santos, and now he is on road to recovery Thiago Santos had this to say:
After 4 and a half hours of surgery ended and everything went well, now I will focus on my recovery to return as soon as possible. Always grateful to God and thank you all for the positive energy and the affection.
He adds:
Now my focus is on a full recovery so I can get back in there better and stronger!
This is the second surgery "Marreta" has had to get to on his right meniscus this year. Santos injured his left leg in a five-round split decision loss against Jon Jones in the main event of UFC 239 on July 6 in Las Vegas.
Santos, 35, won three straight fights after moving up to 205 pounds to earn his title shot against Jones.
At this time Thiago has not provided a timetable for his return to competition.
View this post on Instagram