Thiago Santos faced the light-heavyweight champ Jon Jones and ended up suffering from a left and right knee ACL tear, meniscus tear, and tibia fracture.
Despite being a massive underdog he lost to Jones, but that is NOT what Thiago Santos believes. He proved to be a considerable test for Jones and even one of the three judges awarded the fight to Santos. The bout was much more competitive than most people thought it would be. That is why Santos believes he beat Jon Jones. Read on for more about Thiago Santos Still Recovering, But Wants A Jon Jones Rematch
View this post on Instagram
CelebNSports247.com reports that the 6? 2? 205 lbs Brazilian MMA fighter and hunk best known as Thiago Santos believes he beat Jon Jones and a rematch is necessary to prove who the better fighter is.
Thiago Santos spoke with Bloody Elbow telling them the following about the match that landed him in the hospital.
Santos said:
It's difficult for me to watch. That's why it took me so long to watch it. If I was a judge, I would have given that fight to Thiago Santos. I think I won Rounds 1, 2 and 5. I think the fact Jones was the champion weighed on the judges' decision. I think the challenger has to do more to take the belt from the champion.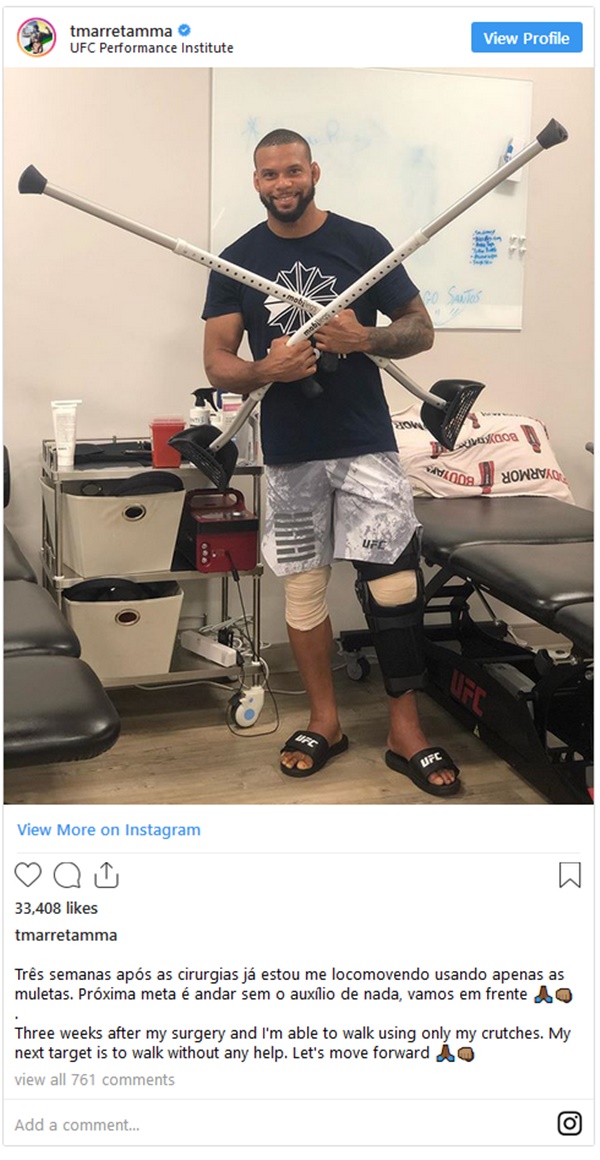 He continued:
There has to be a rematch. As soon as I am 100%, we have to get back in there and find out a real winner.
Santos said when asked if he believes he'll secure a rematch with Jones:
It's difficult because of the way the UFC looks at decisions sometimes, but I'm not focused on that right now. I'm focused on recovering, and when I'm healthy, my focus will still be on becoming a champion.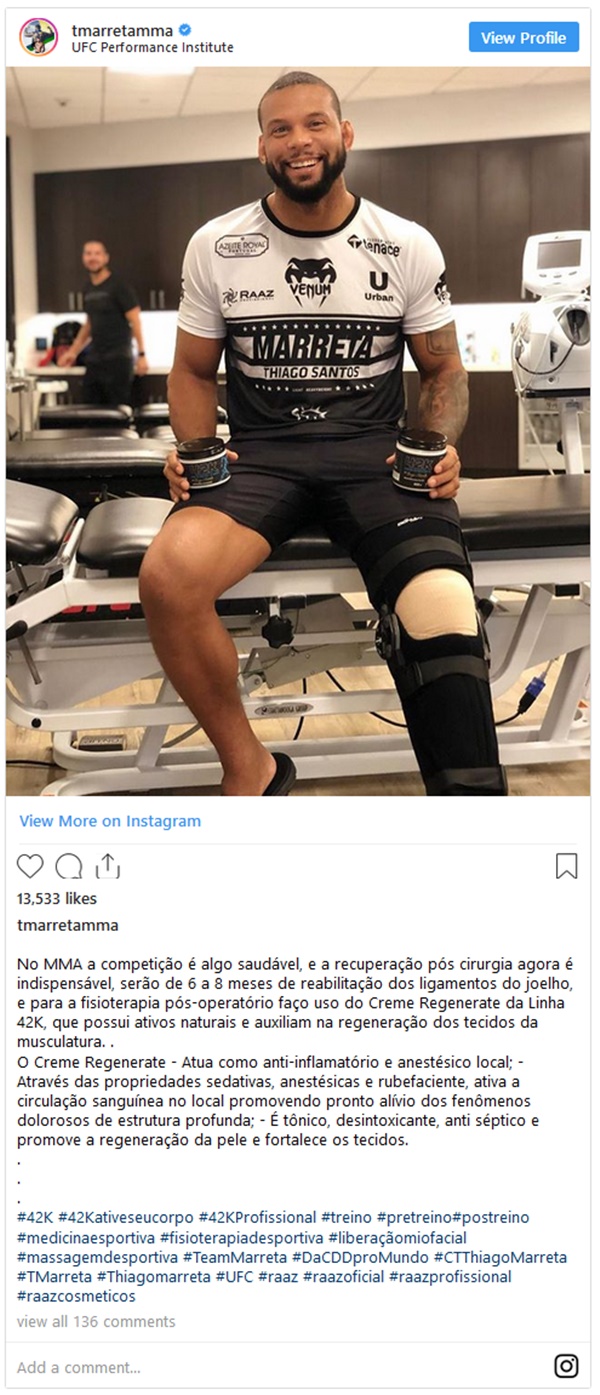 In addition to his thoughts on the fight and wanting a rematch Thiago updated his fans about his recovery.
We gave you a recovery update a few weeks back, but here is the latest from Santos.
Thiago writes:
In MMA competition is healthy, and recovery after surgery is now indispensable, it will take 6 to 8 months to rehabilitate the knee ligaments, and for postoperative physiotherapy, I use the 42K Regenerate Cream, which has natural actives. and assist in the regeneration of muscle tissues…Regenerate Cream – Acts as an anti-inflammatory and local anesthetic; – Through sedative, anesthetic and rubefacient properties activate blood circulation on-site promoting prompt relief of painful phenomena of deep structure; – It is tonic, detoxifying, antiseptic and promotes skin regeneration and strengthens the tissues.
As for a rematch?
Well, Santos is going to be sidelined until 2020, unfortunately for him, the chances of the UFC giving him an immediate rematch with Jones seem slim to none.