There has been lots of talk that Dallas Cowboys quarterback Tony Romo would probably be heading to another team for the 2017/18 season. We just heard that it may be the Arizona Cardinals!?!
Find out what is being said about Tony Romo possibly heading to the Arizona Cardinals…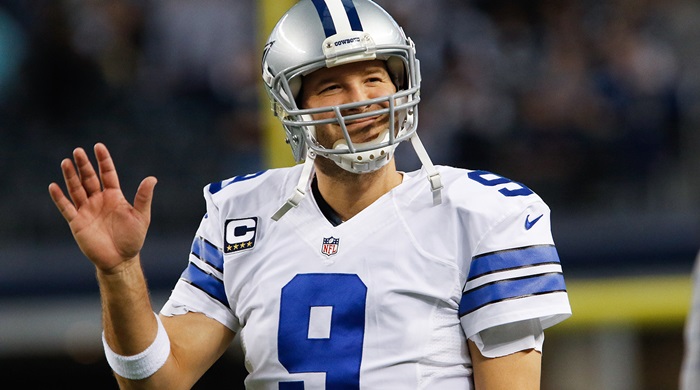 Despite all the speculation as to where Dallas Cowboys quarterback Tony Romo might play next season CelebNSports247.com is hearing a rumor he's heading to the Cardinals.
There is no confirmation that the word is true at this point, especially since Cowboys great Daryl "Moose" Johnston warns it's NOT a smart move. 
Johnston told Newy Scruggs on his NBC Sports Radio show Wednesday:
"I don't think that the [Dallas] organization is going to allow Tony Romo to go to a team in the NFC. That would be a roadblock to the Cowboys getting to the Super Bowl. It would be fine to meet Tony Romo in the Super Bowl, but you don't really want to meet Tony Romo in the championship game."
Johnston weighed in on Tony Romo playing on another NFC team could mean problems for the Cowboys. He says that Romo on another team could set up quite the "roadblock" on the Cowboys' path to the Super Bowl.
Johnston thinks the best fit for Romo is in Houston, since they're an AFC team leaving the path clear for the Cowboys road to Super Bowl next year.
Johnston, an NFL broadcaster for Fox, said:
"It's in the AFC, keeps him out of conference. It has the No. 1 defense in the NFL [for the] regular season without JJ Watt, so just imagine how much better they'll be next season with JJ Watt. They've got a 1,000-yard rusher, they've got skill players on the outside, they've got a good offensive line, it appears that they're a quarterback away from taking that next step as a team."
Meanwhile, TerezOwens.com is claiming that an inside source told them that the Cardinals are making a play for Romo. Coupling Tony Romo with the Arizona D, would be a solid foundation to make a run for a Super Bowl. They also said that Carson Palmer has sold his house and pulled his kids from school.