Get this, Super Bowl MVP Von Miller has rejected the Denver Broncos contract offer of $114.5M, which would have made him the NFL's highest-paid defensive star!?!
Flip and get all the details on Von Miller and his future with the Broncos…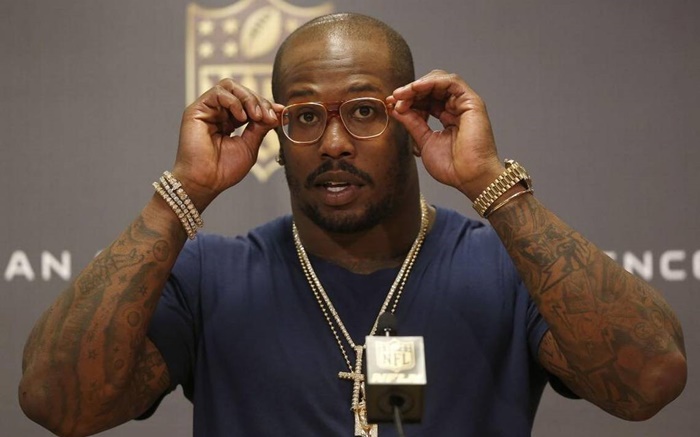 CelebNSports247.com has the latest news on Super Bowl MVP Von Miller who is gunning for a $140 Million dollar contract or NOTHING!
Basically, Von Miller want to be the highest paid NFL player in the league!
Of course, The Denver Broncos pass rusher turned down an offer of $114.5 million, reported NFL Media's James Palmer, via a source informed of the negotiations.
NFL Reports:
Super Bowl MVP Von Miller has rejected a contract offer that would have made him the NFL's highest-paid defensive star. In terms of total value, the contract would have been the highest ever for a non-quarterback.

The two biggest questions, according to NFL Media Insider Ian Rapoport, is where do the Broncos and Miller stand on guaranteed money and how much does he stand to make over the first three years of the deal. These details figure to play a prominent role in the ongoing contract discussions.

Although the Broncos had reportedly set a deadline of 10 p.m. on Tuesday to reach an agreement, they have not pulled the offer, per Palmer. They are now reassessing their position as negotiations are expected to continue.

Denver's goal was to find common ground with Miller in time to attend this week's minicamp. Former Broncos franchise players Ryan Clady and Demaryius Thomas struggled after missing offseason action in 2013 and 2015, respectively, leading general manager John Elway to set this week's soft deadline.

Miller expressed confidence early this week, stating during a White House press conference that "real progress" had been made of late on a new deal.

If the two sides fail to reach an agreement by the collective bargaining agreement's July 15 deadline, Miller will have to play out the 2016 season on the $14.129 million franchise tag.
What are your thoughts on Von Miller holding out?