Golden State Warriors star Kevin Durant took to social media to share the devastating news following his injury on the court during the NBA finals game 5.
We previously reported that Kevin Durant took was cleared for game 5 of the NBA Finals after only being off the court for 33 days. it seemed too soon and apparently, it was. Read on for Kevin Durant devastating news…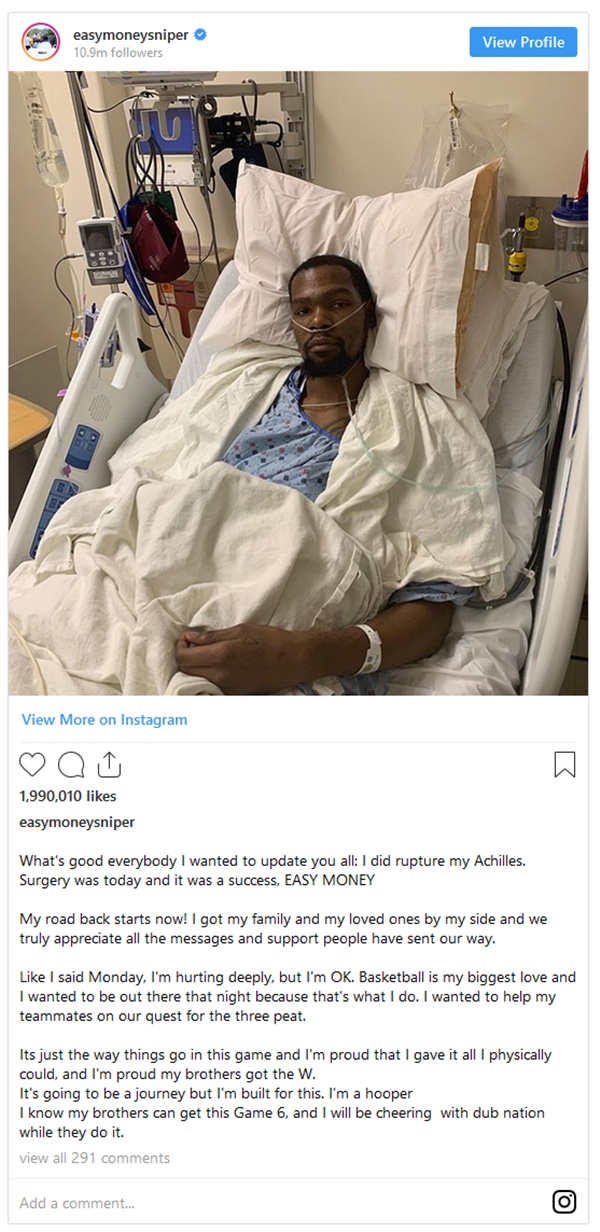 CelebNSports247.com reports that Golden State Warriors star player won't be playing anytime soon, nope Kevin Durant is out until the fall or when doctors clear him properly this time.
There has been lots of support from other players and even Drake who asked for prayers. His teammate DeMarcus Cousins SLAMMED Raptors fans Cheering for KD's injury. It was unsportsmanlike of fans.
Kevin Durant took to social media to share the devastating news:
What's good everybody I wanted to update you all: I did rupture my Achilles. Surgery was today and it was a success, EASY MONEY.

My road back starts now! I got my family and my loved ones by my side and we truly appreciate all the messages and support people have sent our way.

Like I said Monday, I'm hurting deeply, but I'm OK. Basketball is my biggest love and I wanted to be out there that night because that's what I do. I wanted to help my teammates on our quest for the three peat.

Its just the way things go in this game and I'm proud that I gave it all I physically could, and I'm proud my brothers got the W.
It's going to be a journey but I'm built for this. I'm a hooper. I know my brothers can get this Game 6, and I will be cheering with dub nation while they do it.