Kevin Durant official ruling on game 3 of the NBA finals in Oakland.
Read on to find out about the Golden State Warriors star Kevin Durant ability to play in the NBA Finals as they return home for Game 3 with the series which is tied 1-1 right now…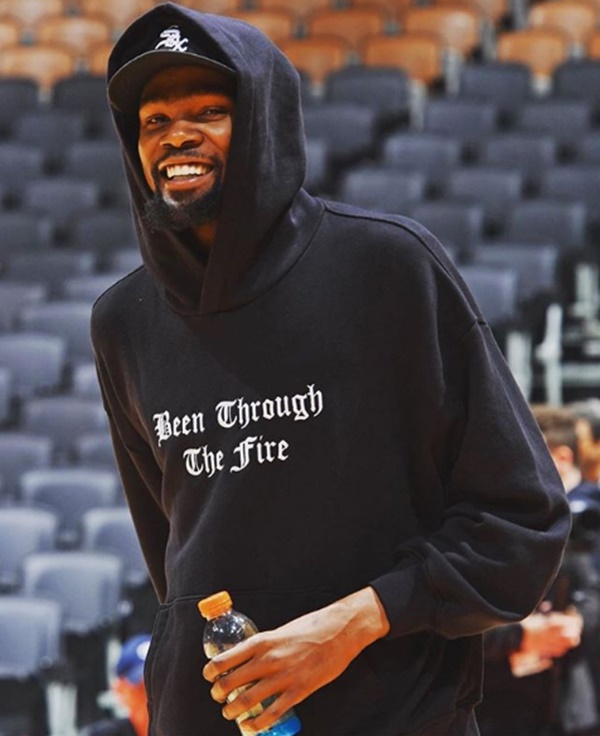 CelebNSports247.com reports that the Golden State Warriors head coach Steve Kerr told reporters on Tuesday that Durant will not play on Wednesday night against the Toronto Raptors, but he said the two-time NBA Finals MVP is "ramping up his work."
Medina took to social media Tweeting: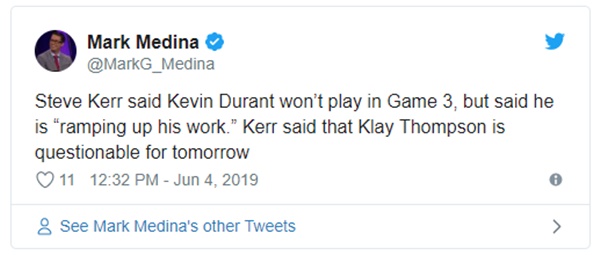 Warriors coach Steve Kerr expressed his uncertainty about Kevin Durant's availability during the remainder of the team's four-game trip.
Kerr said:
I expect him at some point. I don't know when.
The Golden State Warriors are looking to take control of the NBA Finals as they return home for Game 3 but they will have to do it without Kevin Durant.   There had been some optimism that Durant would return for Game 3, but his calf injury is still not 100 percent healed. Durant will have another two days to get healthy between Game 3 and Game 4, which will be played on Friday night.
Durant still has not been able to do much in practice, but Kerr recently downplayed the significance of that. We will see what happens with Durant being able to play in Game 4 of the NBA Finals. It is crazy to have three Warriors out with injuries. Durant, Thompson who suffered a hamstring injury and Warriors forward Kevon Looney. He is likely to be lost for the rest of the NBA Finals with a fracture of the first costal cartilage on the right side of his rib cage.
We are wondering if Drake will be a smartass in Oakland because KD and Thompson think he's a "bum @ss."