Now that the Golden State Warriors will no longer be playing Oakland, and have moved across the bay to San Francisco, what lies ahead for Warriors + KNBR 680 partnership?
KNBR 680 carried Warriors games for over three decades, and throughout much of that time it almost seemed as if "The Sports Leader" was doing the Warriors a favor. Read on on what's next for Warriors + KNBR 680 Partnership…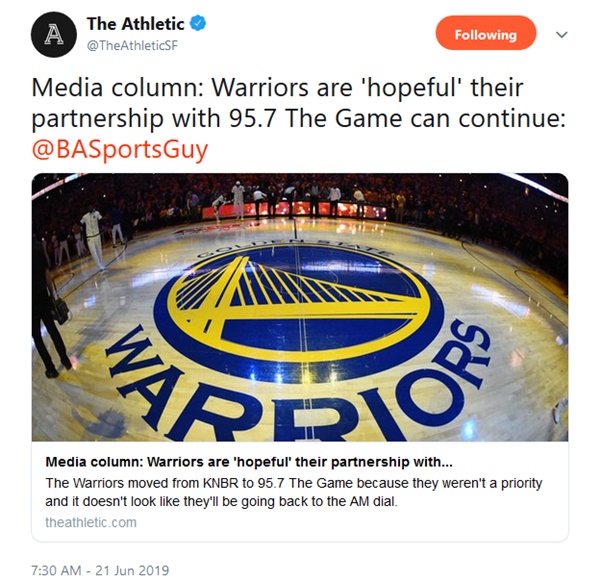 CelebNSports247.com reports that the Golden State Warriors are officially moving to San Francisco, but that come with some reservations since their main source of sports coverage contract is now up.
What does that mean for Warriors + KNBR 680 Partnership?
Here is what we are hearing from Bay Area Sports Guy of the Athletic:
This region has always boasted a solid contingent of hardcore basketball fans, but even the most ardent Warriors backers were hard-pressed to spend much time listening to teams featuring Antawn Jamison or Mike Dunleavy inevitably lose games by 15-plus points during an Eastern road swing — which is why most of those 4:30 p.m. tipoffs were carried on KNBR 1050 so commuters could listen to Ralph Barbieri and Tom Tolbert instead.

Obviously, times have changed. The Warriors went on a nearly unrivaled five-season run, and 60 percent of that action was carried on 95.7 The Game (KGMZ), which reached an agreement with the Warriors to become their new flagship station three summers ago.
That agreement expired after Game 6 of the NBA Finals, and while no announcement has been made regarding…
What will is next for the Golden State Warriors + KNBR 680 Partnership?