Oklahoma City Thunder is said to be cutting Carmelo Anthony since the Melo era in with OKC is ending this summer.

The news comes via a report from ESPN's Adrian Wojnarowski and Royce Young. Read on for all the details to see where Carmelo Anthony will land…
CelebNSports247.com has the latest on the 34-year-old forward will either be traded or bought out by the Thunder after just a single season.
Carmelo Anthony and the Oklahoma City Thunder have a mutual understanding that they will part ways this summer despite him opting into his contract.
So where will Carmelo end up since his days are OVER with the Thunder?
We all knew he hated being with the New York Knicks, so that is the last place he will go back to. Since the Thunder managed to keep star forward Paul George with a four-year, $137 million deal. Despite Melo opting into a $27.9 million option earlier this offseason, it put the Thunder at a payroll plus luxury tax bill of $310 million, the most ever.
With that said, Melo will be headed to another team for sure, but where will he land?
It's been reported that Texas may be his next home since the Houston Rockets who are said to be interested in his services once he gets bought out, according to Marc Stein of the New York Times.
Stein Tweeted:
The Houston Rockets are among the teams that will have interest in Carmelo Anthony once he secures his free agency, according to league sources.
Check the Tweet: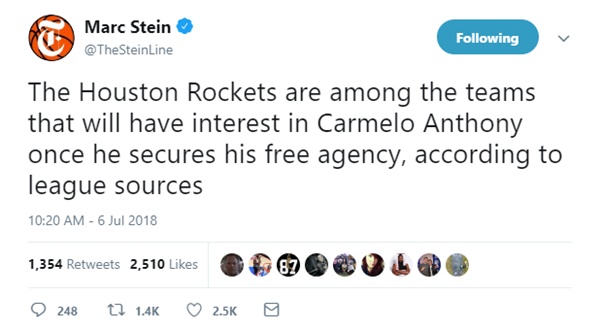 Here is what ESPN's Adrian Wojnarowski and Royce Young are saying:
Anthony's agent, Leon Rose of CAA Sports, has a strong relationship and history with Thunder general manager Sam Presti, and they'll work together on Anthony's exit through trade, the NBA's stretch provision, or a combined buyout and stretch, league sources said.
In the stretch provision, the Thunder can stretch Anthony's $27.9 million out over several seasons, which will help their tax bill enormously in the 2018-2019 season.
Oklahoma City can use the stretch provision on Anthony's $27.9 million contract to eliminate a staggering $107 million off the team's 2018-19 payroll and tax bill, but the Thunder first plan to pursue trade possibilities with teams looking to acquire a massive expiring deal to free salary cap space in July 2019 free agency.

The stretch provision would slash $90 million in tax, dropping the Thunder's bill from $150 million to $60 million. The stretch provision spreads Anthony's salary annually onto the Thunder's cap for $9.3 million over three years.
Will they do that?
We will keep you posted…