Following the rescinded invitation of the Philadelphia Eagles to the White House after winning the Super Bowl, Trump striking out with sports! Nobody cares to meet the racist reality TV star, who is somehow the President of the United States. #SMH
Trump made sure that he wouldn't be embarrassed by the NBA, so he didn't issue an invite to the Golden State Warriors or Cleveland Cavaliers. It didn't matter because both teams stated they wouldn't go anyway. #LOL Read on because now Devante Smith-Pelly of the NHL is weighing in on DUMP…
Just days before the Washington Capitals won the Stanley Cup against the Vegas Golden Knights, reporters wanted to know if anyone on the team would forego a trip to the White House.
CelebNSports247.com has learned that the answer is also a no. In light of President Donald Trump disinviting the Super Bowl champion-Philadelphia Eagles from a ceremony at the White House, Washington winger Devante Smith-Pelly weighed in.
He was asked about a possible visit to Pennsylvania Avenue and he did not mince words. Bottom line is that Devante Smith-Pelly decided to rescind Trump's invitation because of his "Straight-up Racist, Sexist" Remarks!
Devante Smith-Pelly said Wednesday, via ESPN:
The things that he spews are straight-up racist and sexist. Some of the things he's said are pretty gross. I'm not too into politics, so I don't know all his other views, but his rhetoric I definitely don't agree with. It hasn't come up here, but I think I already have my mind made up.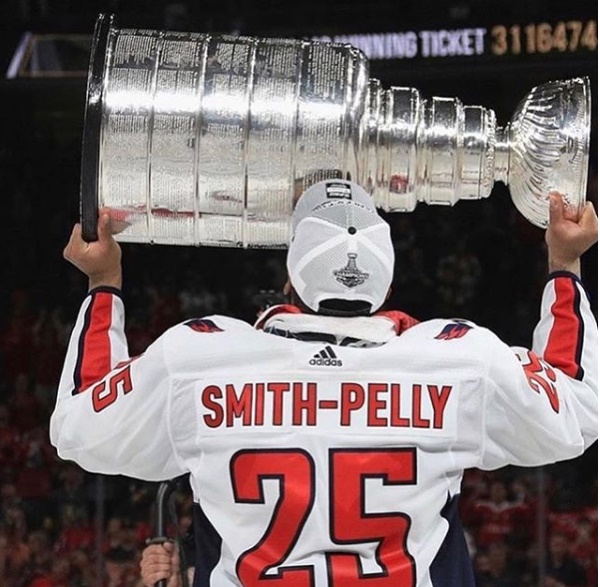 Out of all the major sports in America, not many thought White House declines would come from the NHL or MLB, but they are.
Nobody likes Trump. Why isn't he impeached yet? Trump, please pardon yourself so you will get impeached like the racist idiot you are!