Convicted murderer and former NFL star Aaron Hernandez found dead in his Massachusetts prison cell Wednesday morning at 4:07am. Hernandez death comes just days after his acquittal in a double murder case!
Flip and get the details on the death on former New England Patriots tight end Aaron Hernandez Found Dead…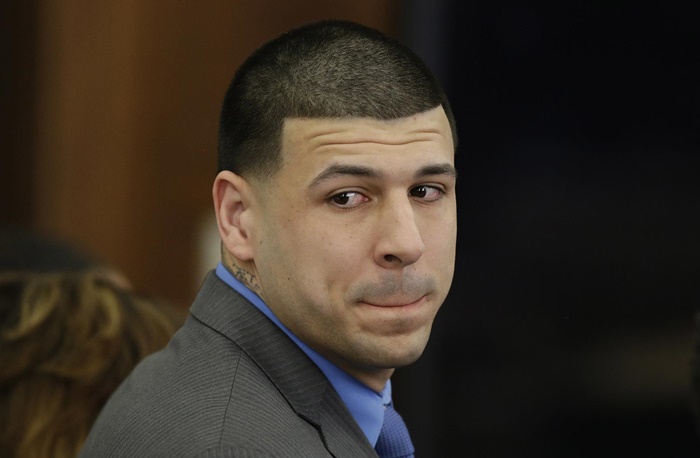 CelebNSports247.com just got word that Aaron Hernandez is said to have taken his own life since he was found hanged in his Massachusetts prison cell Wednesday morning.
Despite evidence from former friend to convict Hernandez with two more life sentences he got off with only a 4 year sentence for possession. Fast forward to now, Aaron Hernandez took his own life and joins the infamous 27 club!
The Massachusetts Department of Correction revealed that Aaron Hernandez hanged himself with a bedsheet attached to a window in his cell at the Souza-Baranowski Correctional Center in Shirley. He was rushed to UMass Leominster where they tried to resuscitate him, he was pronounced dead.
Aaron Hernandez Found Dead Details:
The correction department's statement reads:
"Lifesaving techniques were attempted on Mr. Hernandez, and he was transported to UMass Leominster, where he was pronounced dead at 4:07 a.m."
The NFL star who fell from grace was convicted in 2015 in the murder of Odin Lloyd and serving a life sentence. Hernandez was alone in his cell in a general population wing.
[rpi]
The statement reads as follows:
Aaron "attempted to block his door from the inside by jamming the door with various items."
Jose Baez, an attorney for Hernandez, has been retained by the athlete's family to investigate the circumstances surrounding his death and will act as the executor of his estate.
Hernandez attorney Jose Baez released this statement:
"The family and legal team is shocked and surprised at the news of Aaron's death. There were no conversations or correspondence from Aaron to his family or legal team that would have indicated anything like this was possible.
Aaron was looking forward to an opportunity for a second chance to prove his innocence. Those who love and care about him are heartbroken and determined to find the truth surrounding his untimely death."
His death comes on the anniversary of the day his former teammates visit the White House as Super Bowl champions.
This is terribly sad. Hernandez obviously couldn't live with himself. He should have written a book about his life and told the truth about everything since he was acquitted, but life in prison was looking like a life at all.
What do you think about Aaron Hernandez Found Dead in Prison Cell?