Anfernee Simons' Girlfriend Dubbed "Gold Digger" By Blazers Fans!
Trail Blazers fans are NOT feeling Anfernee Simons' girlfriend Bre Hudson who took to Twitter after to celebrate the win but fans labeled her gold digger. Continue on…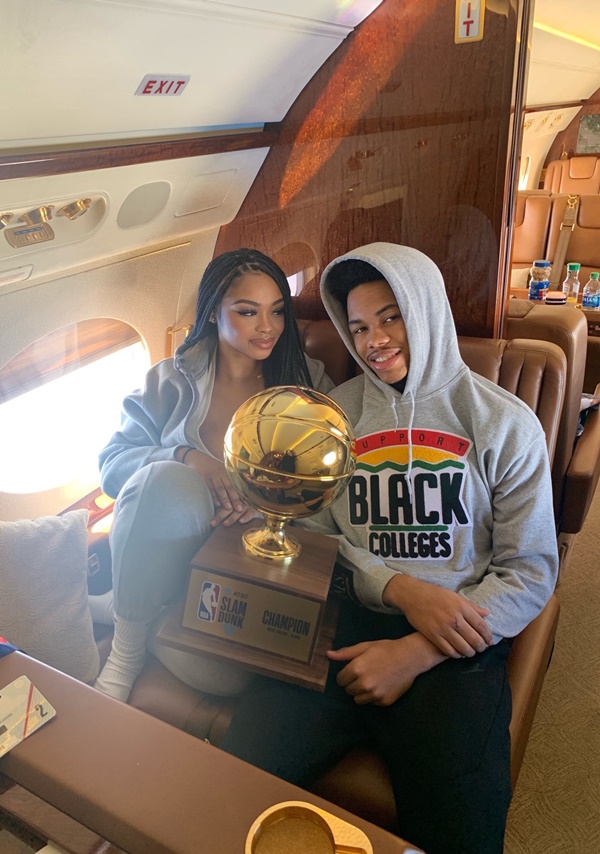 CelebnSports247.com reports that Portland Trail Blazers fans are very protective of their NBA stars and when they see BS they don't hold back.
Do you think Bre Hudson is seeing dollar signs while she gazes at her man Anfernee?
See, Portland Trail Blazers star Anfernee Simons won the NBA Slam Dunk Contest at the All-Star Game on Sunday after beating New York Knicks star Obi Toppin in the final round.
So, you would think Anfernee Simons fans would be excited for him, and they were. However, ther were NOT feeling his girlfriend Bre Hudson and her Tweets celebrating Anfernee's impressive win.
Very proud of you my love , ?? pic.twitter.com/rncvNHx8IY

— Bre Hudson (@breezusxchrist) March 8, 2021
After Bre posted this Tweet expressing her love for Anfernee, Trail Blazers fans went in on her.
Very proud of you my love , ?? pic.twitter.com/rncvNHx8IY

— Bre Hudson (@breezusxchrist) March 8, 2021
The way you're looking at him is everything ? pic.twitter.com/7Xul3tXbFT

— F A Y O L (@Fayolmusic) March 8, 2021
Soon as the Money gone ; she gone to the highest bidder. Ain't none of em loyal and that's a proven fact

— MrChozen4hire (@PhillyBul_P) March 9, 2021
my love hahaha…. gold digger u r …

— night wolf (@nightwo29525933) March 9, 2021
FACTS. A check . If he wasn't a NBA player she wouldn't even respond to his dm. Women today are so money driven and predictable

— Mrtruthfully (@mrtruthfully) March 9, 2021