We have some breaking news from NFL Insider Adam Schefter who is reporting that Arizona Cardinals Pro Bowl cornerback Patrick Peterson has been suspended six games by the NFL.
Read on to get more details on why Patrick Peterson has been suspended six-games...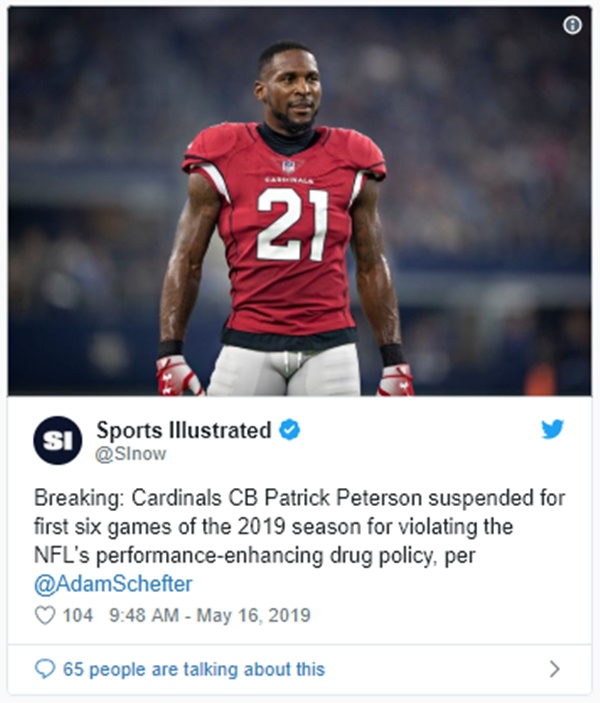 CelebNSports247.com has learned via NFL Insider Adam Schefter that the Arizona Cardinals CB Patrick Peterson violated the league's performance-enhancing drug policy.
NFL insider Adam Schefter reported on Arizona Cardinals CB Patrick Peterson suspension on social media posting:
Actually six games. Patrick Peterson dropped his appeal. Six games.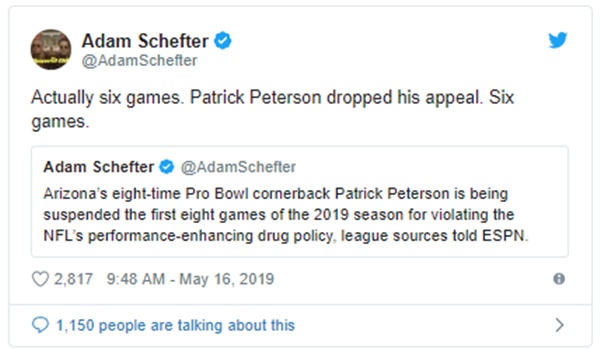 He posted a second Tweet that reads:
Details on Cardinals' CB Patrick Peterson being suspended six games for violating the NFL' performance-enhancing drug policy.
Here are the details in a statement released by the Cardinals:
The statement reads as follows:
Patrick recognizes how disappointing this is for everyone in the organization as well as our fans. As we all do, he understands that regardless of intent he is ultimately responsible for everything he puts in his body. Our coaching staff and our players are now aware that we will have to play the first six games without Patrick and they understand they have to rise to the challenge that it presents.
ESPN Reports:
Peterson, who is eligible to participate in all offseason and preseason practices and games, will miss Arizona's regular-season opener vs. the Lions, then games at Baltimore, at home against the Panthers and Seahawks, at Cincinnati and at home against the Falcons.
The sad part in all this is that Peterson's suspension now means another guy will get those reps for the first six games. He might have just helped the Cardinals find his replacement with one of the 12 newly signed players.