Cardinals Budda Baker EXPOSES Racist 49ers Fan!
This comes at no surprise, but once again, a fan who clearly doesn't care for Black players went on the attack with racist remarks. Continue on to see why Cardinals Budda Baker EXPOSES racist 49ers fan for the dirtbag that he is…
CelebnSports247.com reports while the 49ers took on the Cardinals was a moment in the game where Arizona's defensive star Budda Baker tackled George Kittle around the knee area.
The tackle quickly ignited the 49ers fan base to start shouting racist remarks because they did not like it.
Why tf Budda baker always going for kittles knees

— Jerm (@_Jeremy_Edwards) September 13, 2020
Hit him just before the waist. https://t.co/kxIjG8nUBO

— Jared Barnard (@JaredBarnard6) September 13, 2020
Man FUCK Budda Baker. The only way you stopping Kittle is to go for the knees. Real pussy shit

— Too Long Talong ? (@J_Pomp) September 13, 2020
Budda Baker is a filthy animal. He always tackled Kittle in the knee area. #49ers

— Bryan V. (@Soliddogg23) September 13, 2020
Here is a slo-mo of the moment George Kittle got hit in the left leg by Budda Baker. Seriously watch this at your own peril. His left knee hyperextends and he immediately grabs it and heads off. He had 4 catches, 5 targets, 1 rush before this. Was not targeted a single time after pic.twitter.com/nGbXspkHsQ

— Jake Hutchinson (@hutchdiesel) September 14, 2020
On Monday, Baker checked his Instagram direct messages and decided to take one message and expose a 49ers fan for being completely racist.
Im all good with opposing fans talking trash. But This right here man… All you can do is pray for ppl like this. pic.twitter.com/Hybq1RmfEd

— Budda Baker (@buddabaker32) September 14, 2020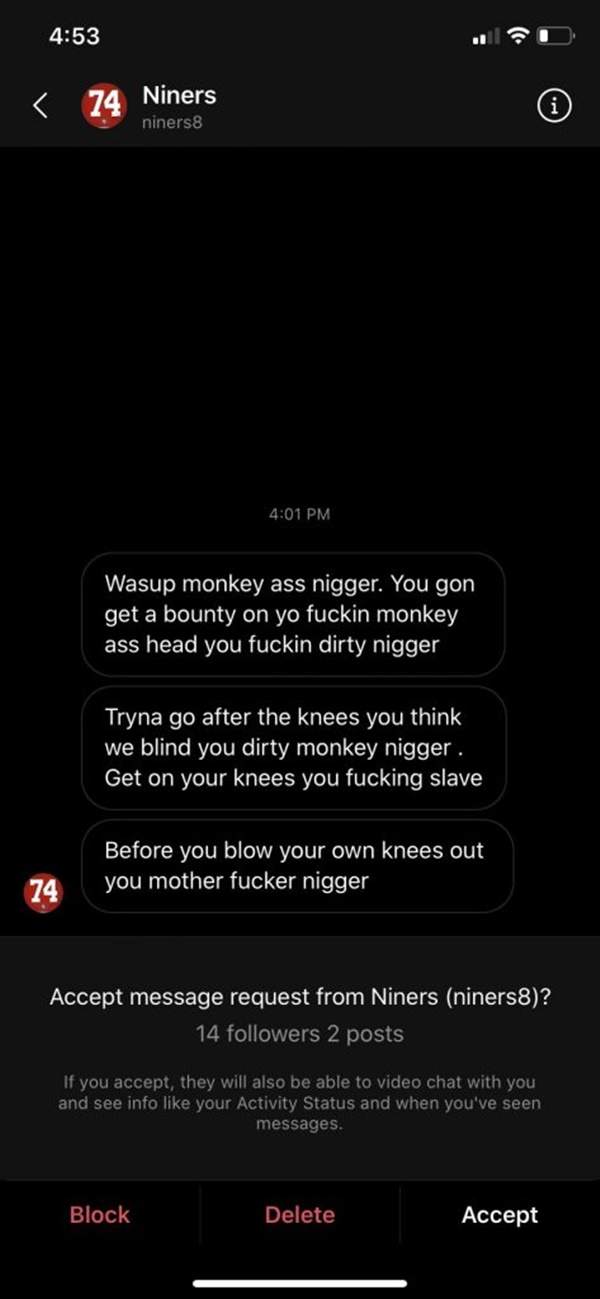 Budda writes he is a "black man" and he "does NOT tear down other black men":