Christian McCaffrey Smashing Olivia Culpo; Injures Hamstring During Game!
Christian McCaffrey is having sex and Olivia Culpo doesn't care who knows it. Get more details on Christian McCaffrey Hamstring injury…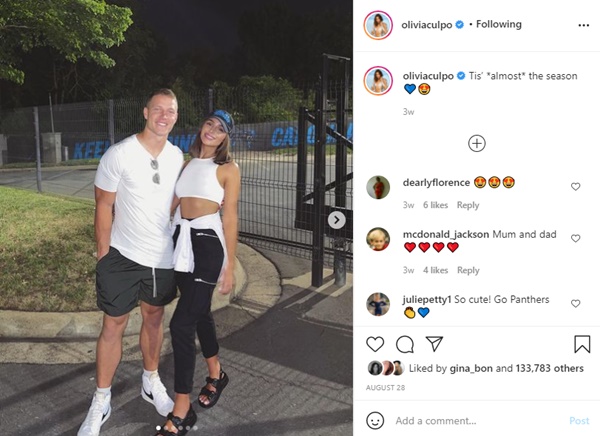 CelebnSports247.com reports that tours ahead of the Panthers' Thursday night game against the Texans, the 29-year-old model and influencer reposted a parody video of the Panthers running back to her Instagram Story.
It was a parody Instagram account that posted an edited video of Christian McCaffrey flipping into the end zone with the added text "first time getting laid in months."
It starts with the Carolina Panthers running back McCaffrey lying in the end zone, breathlessly exclaiming:
Wow, you gotta see the stats on that one.
Then the video rewinds to show all of the "factors" that could've stopped him from scoring.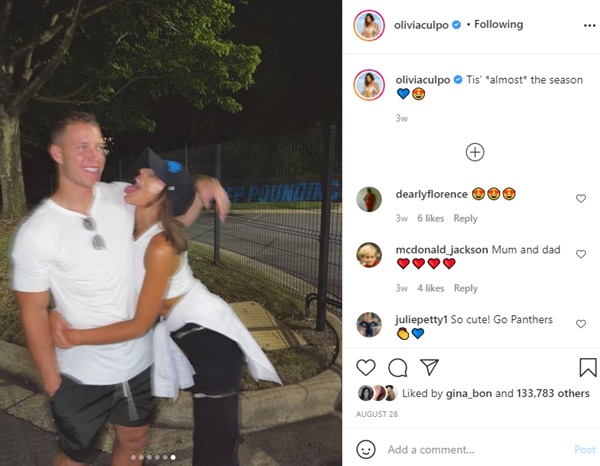 The parody video, posted by @fridaybeers, lists "getting catfished," "$0 in my account," "potential catfish" and "small d–k" as challenges McCaffrey jokingly managed to avoid.
The only factor we can definitively debunk is the lack of funds in McCaffrey's bank account. He became the highest-paid running back in NFL history, thanks to a $63 million contract extension signed in April 2020.
Panthers' Christian McCaffrey suffers strained hamstring!
The Carolina Panthers lost star running back Christian McCaffrey in the first half of their "Thursday Night Football" win over the Houston Texans. Following the game, head coach Matt Rhule said that McCaffrey "strained" his hamstring and that they do not know the severity of the injury just yet. Rhule also said that he spoke with McCaffrey in the locker room and that he was moving around. – CBS Sports