Meet Elijah Holyfield son of the former heavyweight champion Evander Holyfield. Not only is he a mouth-watering chocolate hunk, he's a beast when it comes to football.
Read on to check out the Elijah Holyfield ripping up on the field…
Elijah Holyfield is a running back for the University of Georgia and a sure in when it comes to the NFL because he's a beast.
Elijah Holyfield, the 5? 11? 216lbs hunk was spotting on social media in some hot photos of Elijah Holyfield at his best.
Ladies this is one man you need to start paying attention two because he's so hot we can take our eyes off of him.
Like father like son, Elijah may not have followed his fathers footsteps into the ring boxing, but he still packs a punch on the field.
The running back is proving to be the best when it comes to the University of Athens (UGA) college football players and daddy Evander Hollyfield is more than proud.
Eloy took to social media saying:
Great First Week of Spring!??
We have no complaints, Elijah is working hard at being the best, and if he keeps it up there is no stopping the upcoming NFL talent.
GeorgiaDogs points out his stats – Eloy had a breakout Junior campaign with 1,735 yards on 264 carries and 25 touchdowns in 14 games….Recorded nine receptions as a senior for 102 yards…Not charged with a single fumble during his high school varsity career.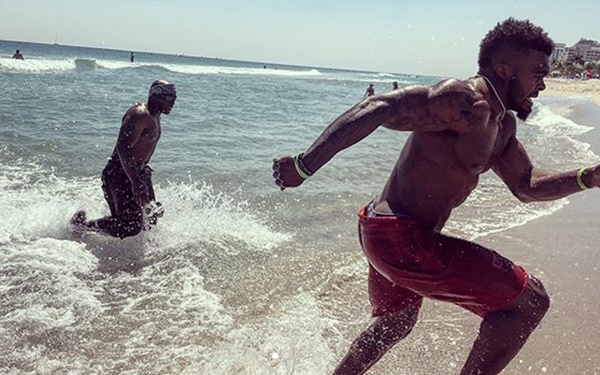 When Elijah goes pro, which team do you think that he will best serve as a running back?
Here are our 5 team choices:
San Francisco 49ers
Los Angeles RAMS
New England Patriots
Denver Broncos
Dallas Cowboys
Let us know?