Floyd Mayweather FIRES BACK at 50 Cent with STD Post!
After 50 Cent ignited his long-standing feud with Floyd Mayweather spilling tea that Gervante Davis stole his girlfriend, the former boxing champion Floyd Mayweather FIRED BACK at 50 Cent with STD post…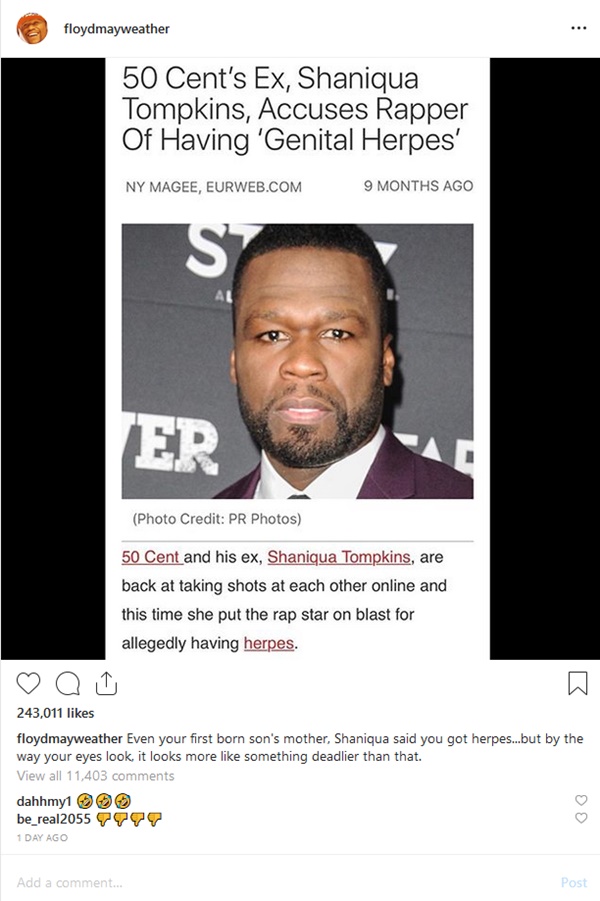 You might say it's a bit below the belt, but when you have nothing and you pissed off because the truth stings ever so deep, Floyd Mayweather had to take things down a step, CelebNSports247.com has learned.
Floyd Mayweather let 50 Cent have it saying that he has herpes.
Mayweather then hit 50 with a jab of his own:
Even your first born son's mother, Shaniqua said you got herpes…but by the way your eyes look, it looks more like something deadlier than that.
He made sure to insinuate that something was seriously wrong pointing out that 50 Cent may have more going on with his health since his eyes look far from clear.
It was just a straight-up low blow from Mayweather, but it appears that Fiddy obviously struck a nerve and the former champion didn't take to kindly to any of it!
Bottom line, by now we all know that the feud between Floyd Mayweather and 50 Cent is never going to end.
No matter how old these two get they will always go on the attack with each other. SMH
This is not a surprise as these two tend to go at it every couple of months.