Word is that it is a good possibility that Toronto Raptors star Kawhi Leonard and Jimmy Butler are heading to The Los Angeles Clippers.
Now, it makes no sense why Kawhi Leonard would leave Toronto Raptors for the Clippers, but it's being suggested that Philadelphia 76ers Jimmy Butler may be a reason for the move. Read on…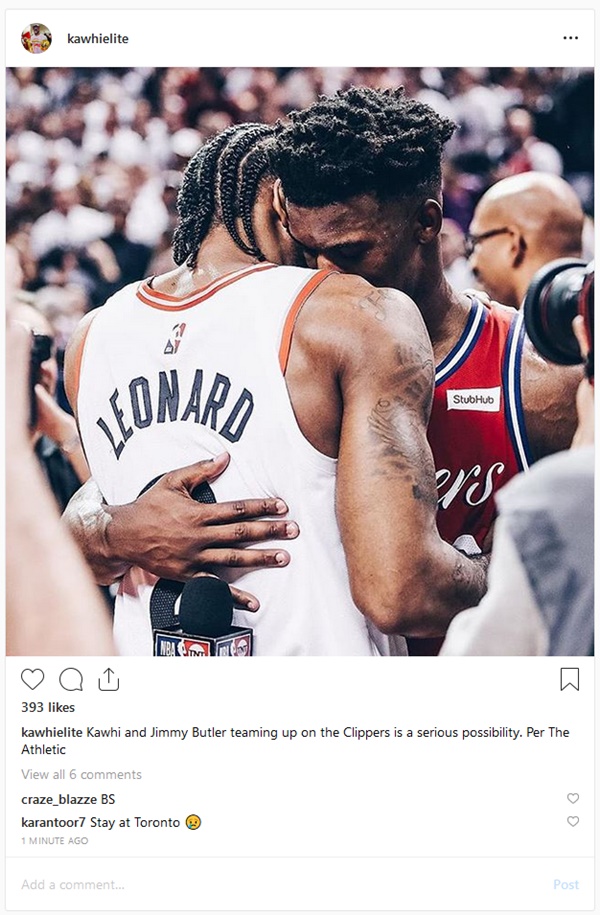 CelebNSports247.com reports that just three days remain until NBA free agency begins Sunday at 6 p.m. ET and before all the rumors are solidified on which free agents are switching it up.
Sam Amick of The Athletic dropped these nuggets on Thursday:
While it is believed that Kawhi Leonard may be leaving Toronto for the Lakers or the Knicks, The Athletic has their thoughts on what will happen.
While a source with knowledge of the Knicks' plans said they appear likely to get a meeting with Leonard, the Lakers' prospects are harder to gauge.
Here is what is being said about Kahwi Leonard and Jimmy Butler:
There are many scenarios seemingly in play, but sources say one, in particular, looks increasingly possible: Butler teaming up with Leonard on the Clippers. There are strong indications that Leonard is interested in having Butler as a running mate, and it's the sort of powerful pairing that would certainly vault the Clippers into contention."
Despite the predictions, we would like to point out hat Kawhi recently signed a deal with Cargo Jet Airways in Toronto which suggested that he might be staying with his Championship team.