Larry Johnson Calls Out Shaq For Being Part of The Illuminati!
Once again, Johnson is back accusing athletes of being part of a satanic cult. The only thing that is true is Shaq is part of a group that runs the world, but its not the Illuminati.
If you noticed in August, NBA legend Shaquille O'Neal made a power move and involving Reebok. You know, the same company he walked away from when they offered him a $40 million Reebok sneaker deal. Well, now he owns Reebok, read on and see what Larry Johnson is saying about Shaq and the Illuminati…
Shaq & Authentic Brands Group are purchasing Reebok from Adidas for $2.5 billion ? pic.twitter.com/BjdTvybinE

— Hot Freestyle (@HotFreestyle) August 26, 2021
CelebnSports247.com reports in August the four-time NBA champion recalled cutting ties with the brand he repped throughout his playing career after "a lady ripped me a new a–hole while leaving the arena one day."
Now his most recent deal has already made waves when Authentic Brands Group (ABG), a group in which Shaq has shares, has agreed to buy Reebok for around $2.4 billion.
This apparently triggered former Kansas City Chiefs running back Larry Johnson to take to social media and call out Shaq for being part of the Illuminati.
Larry Johnson said this on his Instagram story:
In service to the King. A front for a Black-owned business. To make his York/cottish Rite masters money off you.
Johnson also posted a picture of a ring that Shaq is showing off, which he has a caption of 'Prince Hall Mason' next to it.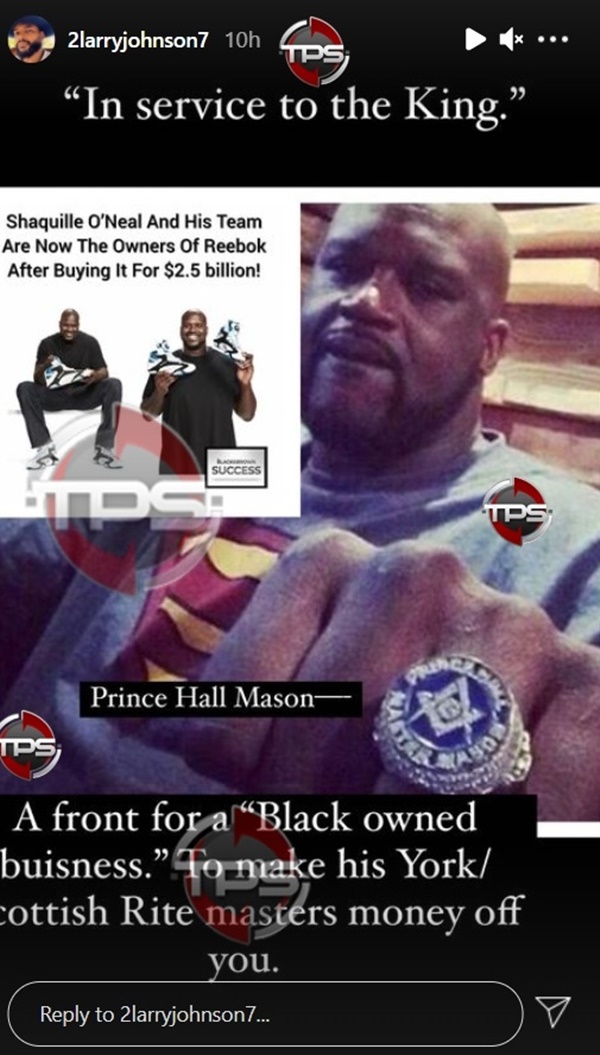 It should be noted that Shaq has openly admitted that he is a mason.
What is a mason?
A mason is an adult male who must believe in the existence of a supreme being and in the immortality of the soul. The teachings of Freemasonry enjoin morality, charity, and obedience to the law of the land. You have to be recommended by two Freemason members.