Larry Johnson Exposes Naomi Osaka For Throwing Up Illuminati Symbol!
What did you think, that the Illuminati wasn't real? Well, thanks to Larry Johnson, he never misses a day when calling out athletes, entertainers, and the insanely rich. Continue on to see how Larry Johnson Exposes Naomi Osaka…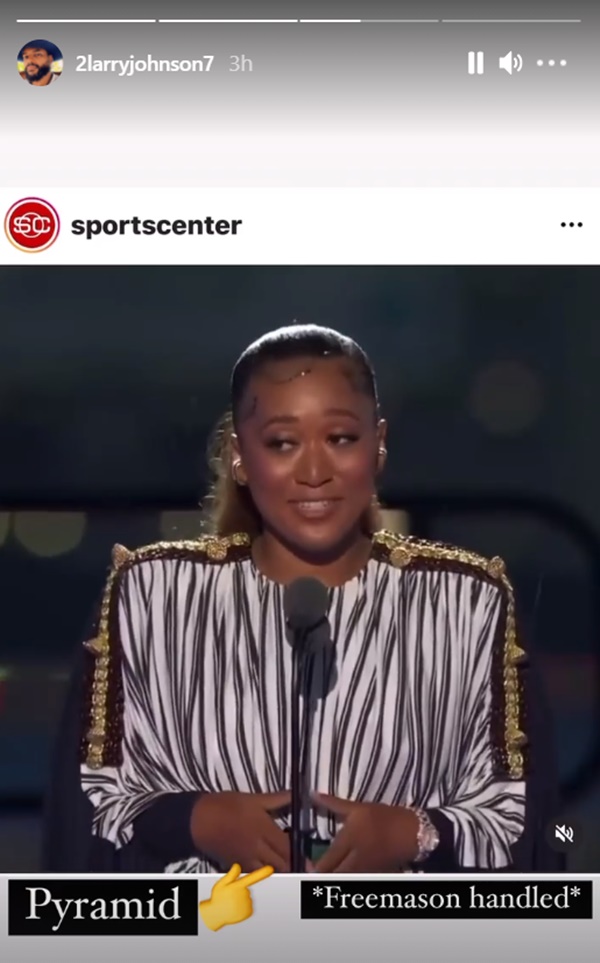 CelebnSports247.com reports that Naomi Osaka returned to the spotlight for the first time since withdrawing from the French Open in May when she was spotted on the red carpet at The ESPYS.
Osaka won as the best athlete in women's sports at the annual show honoring the year's top athletes and sports moments.
But during her speech, former Chiefs tight end Larry Johnson noticed something peculiar with her hands, so he called her out on it on his Instagram story.
Osaka threw up the symbol and said:
I just really want to not say a long speech because I'm a bit nervous. This year has been a really, it hasn't even finished, but it's been really tough for a lot of us. For me, I just want to say I really love you guys.
Osaka, who has won four Grand Slam titles, pulled out of the French Open before the second round, saying she has "huge waves of anxiety" before speaking to the media and that she has "suffered long bouts of depression."
She also sat out Wimbledon but will return for the Tokyo Olympics, representing her native Japan.
Watch:
View this post on Instagram