Lourdes CONFIRMS DeAndre Baker Cheating Rumors FALSE!
Today reports surfaced that New York Giants cornerback DeAndre Baker was caught up in allegations that he was cheating on his girlfriend Lourdes.
Well, CelebNSports247.com reached out to Lourdes to clarify if the tea spill was true or not and she got back to us immediately to DEAD to DeAndre Baker Cheating Rumors since they're FALSE. Read on…
CelebNSports247.com previously reported that DeAndre Baker was said to be beefing with his girlfriend Lourdes but thanks to a tweet to her we have the REAL TEA.
Lourdes reached out us to clarify she was speaking about her graduation and cheating rumors.
She made it clear that he is NOT cheating! And She 100% SINGLE!
i was talking about my graduation being cancelled because of the corona virus!!! ain't nobody getting cheated on y'all trippin. i'm big single stop playing wit me!!!

— Lo (@lourdes_lolo) May 25, 2020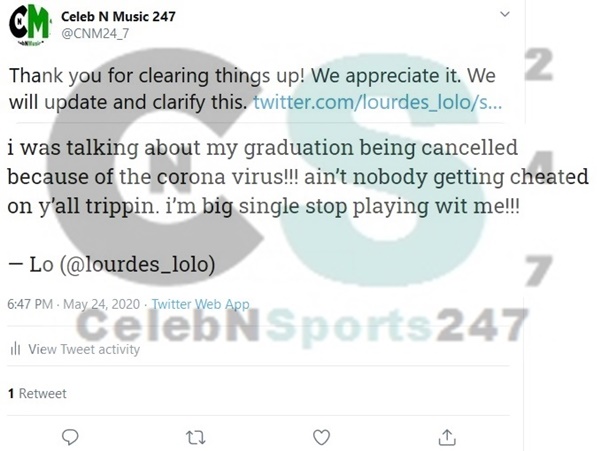 So there you have it from the source herself. She has confirmed that the alleged cheating RUMORS are NOTHING.
And Lourdes wants everyone to know "stop playing wit me!!!"