With reports stating that "Manny Pacquiao remains the most riveting fighter of his generation" it only makes sense, he is feeling some type of way right now.
That said, it brings us to the latest from Manny Pacquiao who decided to bait Floyd Mayweather to accept a rematch. Read on to see how Manny Pacquiao Baits Floyd Mayweather…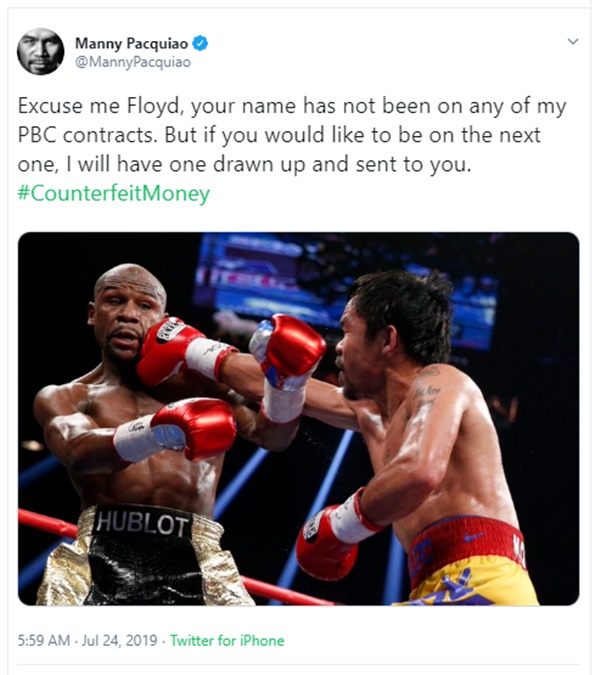 CelebNSports247.com that Manny Pacquiao took to social media following the fight to see if he could get a rise out of Floyd Mayweather who signed Pacquiao after he beat him in the ring back in May 2015.
If you recall, Floyd Mayweather beat Manny Pacquiao after going 12-rounds and winning the fight after the judges unanimous decision in favor of the Money Team leader, which 50 Cent set up for Floyd for $500K.
That is also the reason behind their fallout. 50 Cent helped Floyd get his Money team trademarked and set up the right way and then refused to pay Curtis for the funds he put out. This is also why Fiddy calls Floyd a B–ch and continues to clown him. He makes b–ch moves and now you can say that again because Pacquiao is calling him out and Mayweather isn't like one bit of it.
Manny Pacquiao tweeted on Tuesday:
Excuse me, Floyd, your name has not been on any of my PBC contracts. But if you would like to be on the next one, I will have one drawn up and sent to you. #CounterfeitMoney
He went on to add:
To the fans I fight for, the media who cover me, the friends and family who support me, and to @KeithFThurmanJr, who accepted my challenge, Saturday night was an honor and privilege. I would also like to thank @premierboxing, @FOXSports, & @MGMGrand for a great event. God Bless.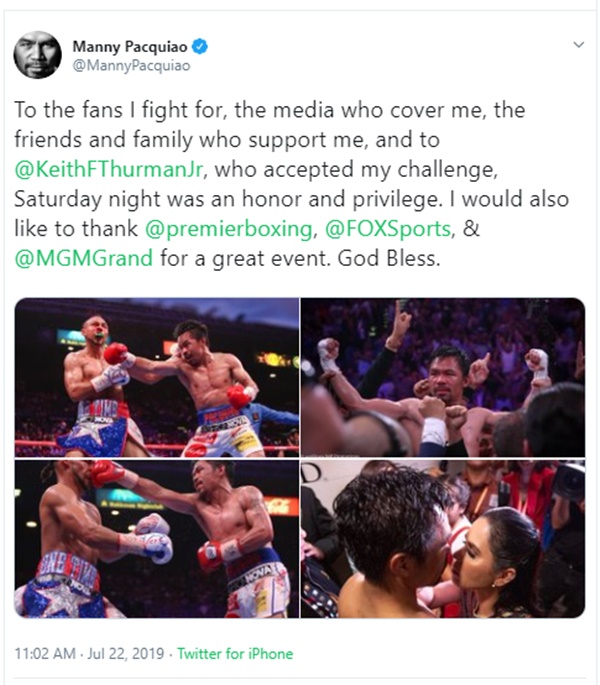 Yeah, this won't sit well with Floyd when he gets the word.