The Cleveland Browns DE Myles Garrett issued an apology but the NFL read it with deaf ears.
The only problem is that Myles Garrett won't play another snap in 2019 after the NFL moved swiftly and suspended the Cleveland Browns' defensive end. Read on to see how Myles Garrett Apologized…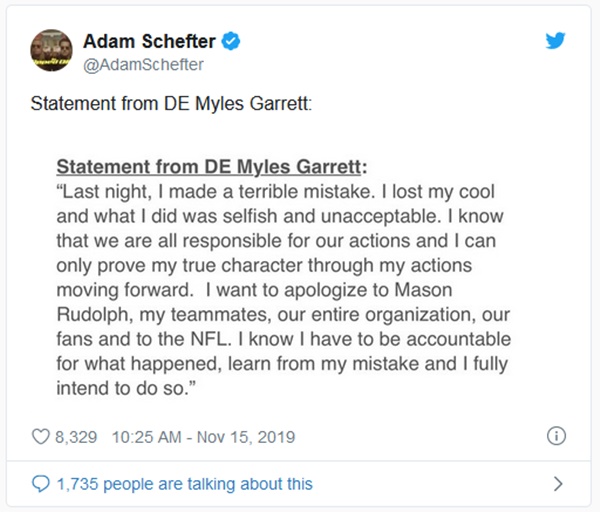 CelebNSports247.com reports that not only will Myles Garrett be suspended for the remainder of the 2019 season, he will also be unable to play in the playoffs should the Browns make it that far.
Soon after the announcement came down of his suspension, Myles Garrett would release an official statement.
Garrett wrote:
Last night, I made a terrible mistake. I lost my cool and what I did was selfish and unacceptable. I know that we are all responsible for our actions and I can only prove my true character through my actions moving forward.
He adds:
I want to apologize to Mason Rudolph, my teammates, our entire organization, our fans and to the NFL.
Myles holds himself accountable and owns his mistake, even though he was reacting to Mason attacking him and kicking him in the groin.
Garrett's apology wraps up stating:
I know I have to be accountable for what happened, learn from my mistake and I fully intend to do so.
We commend Myles for his apology, but what about Mason Rudolph who may get fined, but he was NOT suspended like Myles. Mason is just as wrong and guilty for his part in the brawl. Why is the NFL only giving him a hand slap?
FYI: Did you know that the Browns has been penalized 87 this season?
Adam Schefter posts:
After last night, Browns now have been penalized 87 times this season, their most through 10 games since 1978. They've also racked up four ejections this season, the most in the NFL, including three on Thursday and Greg Robinson in Week 1 for kicking a Titans player.

— Adam Schefter (@AdamSchefter) November 15, 2019
Just think, in September, Myles was flying high on top of the world in ESPN body issue and now this:
View this post on Instagram