Here we go again! San Diego just lost the Chargers to Los Angeles. Now Oakland might be losing the Raiders to Las Vegas! Talk about news that SUCKS, the raiders NEED to stay in Oakland, but they're ready to leave.  We have 9 reasons why Vegas is looking so much better!!!
Flip and find out why the Oakland Raiders team filed the paperwork to leave to get have a new beginning in Las Vegas…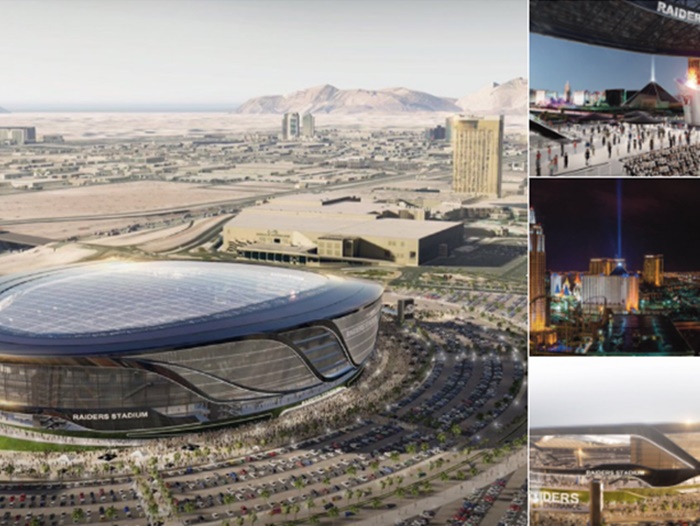 CelebNSports247.com has this report on the Oakland Raiders, who just filed the paperwork to move to Las Vegas.
This would obviously be the first NFL team to ever play in Las Vegas, but the Oakland Raiders won't be the first professional sports team in Vegas. The NHL's Saint Rose Golden Knights calls Vegas home, so the Raiders will be their second team.
If the Raiders move is approved the team will still play a couple more years in Oakland while a stadium is built. But many fans are wanting to know why are the Raiders wanting to make a move to Las Vegas?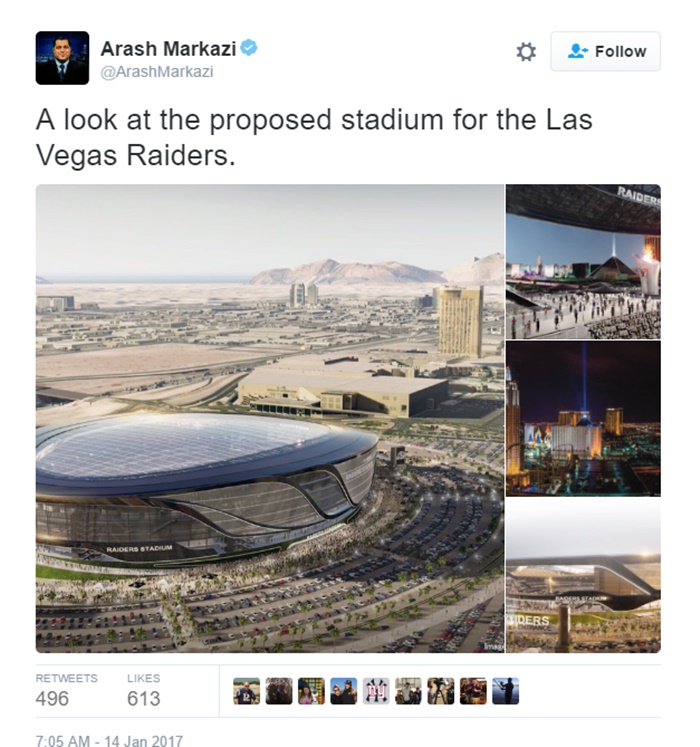 Here are 9 reasons why the Oakland Raiders want to call Vegas their new home:
9. Sharing a Stadium:
The Raiders share a stadium with a MLB team, The Athletics. This is why there is a baseball diamond on the 50-yard line. Tell us, how many teams run into this problem? Just the Raiders. With that said, it makes you feel as if the city is NOT supporting their team like San Francisco is supporting the 49ers.
8. The Stadium:
The Oakland Coliseum is falling apart, literally. From inadequate parking, to constant roof leaks, to maintenance issues, one has to wonder how much longer fans will put up with this experience. The 1964 built stadium is currently the fourth oldest stadium in the NFL.
7. The City of Oakland
According to reports, Davis and Oakland mayor Libby Schaaf haven't even talked to one another yet about the situation. Davis hasn't met with the Oakland mayor, but he has in fact met with Las Vegas city officials about a new stadium. Schaaf has said she would like to build a new stadium for both the Athletics and Oakland Raiders, but the chances of that happening in Oakland are extremely unlikely because of a lack of available space.
That makes no sense since there is all kinds of space in Oakland. Tear down some of the crappy spots and rebuild. They could build a stadium west of the 80 by the bay bridge, there is space there.
6. Tax breaks:
We all know California is the land of high taxes, and that operates in full effect for owners as well. A lot of owners and companies (not just sports) are leaving California to save money. In addition, Las Vegas isn't the cheapest place in the United States, but it does have financial benefits when compared to other California locations. The Raiders have even showed interest in San Antonio, which would be a very wise investment, financially speaking.
Top 5 Reasons The Oakland Raiders filed to move:
5. Fan Attendance:
Raiders fans are very passionate, but the fact of the matter is, they aren't filling the seats at a high enough rate. Last season the Oakland Raiders had the second lowest home attendance rate in the entire NFL. On top of having the second lowest attendance rate per stadium, the Raiders had the third lowest average amount of fans per game, just over 54,000.
4. Owner Support:
This is a business. If a team is constantly losing money, that means they are losing the NFL and other owners money. That team right now is the Raiders. If Las Vegas or a Texas city is willing to finance a new stadium location, and it shows promise, owners will jump on it in a heartbeat.
3.  Stadium Size:
The Oakland Raiders stadium is not only old and not filled, but it's also small. The Oakland Coliseum doesn't even have a capacity to hold 60,000 fans for an NFL game. To put that into perspective, the other 31 teams can all hold more than 60,000 fans, and the Dallas Cowboys average more than 91,000 fans per home game.
2. Mark Davis Wants to Leave:
Mr. Davis isn't getting what he wants in Oakland, so he's testing other areas. According to ESPN, Davis pledged $500 million to build a new dome stadium in Las Vegas. Davis has also had a history of frustration with sharing a stadium with the Oakland Athletics. CBS Sports even reported that the Oakland Raiders would "pounce on the opportunity to move to San Diego if the Chargers decide to leave."
1. Taking advantage of Opportunity:
With a 52-year-old stadium that has the smallest seating capacity in the league, combined with the facts that you have to share it with a baseball team and you can't even fill the stadium, you have to ask yourself, why stay? Other cities will open their doors for another NFL franchise, and if you're Mr. Davis, you have to take advantage of this moment.