It's official, Pro Bowl cornerback Patrick Peterson is staying with the Arizona Cardinals!
If you recall, this week it was reported that ESPN's Adam Schefter shared that Peterson "desperately" wants out of Arizona and had asked the Cardinals to trade him.
Patrick Peterson wanted off the Cardinals before next Tuesday's NFL trade deadline. Well, things have changed. Read on…
CelebNSports247.com has learned that Patrick Peterson's cousin and former NFL cornerback Bryant McFadden tweeted that the New Orleans Saints are his "ideal trade destination."
Well, Peterson, 28, took to social media to clear things up and put the rumors to rest.
Cardinals president Michael Bidwill and Patrick Peterson had a one-on-one meeting for 30 minutes on Tuesday to discuss ways for the Cardinals to improve and for Peterson to be a leader. – ESPN
The result was that Patrick Peterson will stay with the Cardinals.
Peterson wrote in the post:
I've been incredibly frustrated with how the season has gone. But my energy is 100% focused on being part of the solution & helping us turn this around. I've never shied away from a challenge before and I'm not starting now. I have always given my all to the Cardinals organization & fans. That is what I intend to do for the years to come. I am an Arizona Cardinal, and my focus is on this weeks game.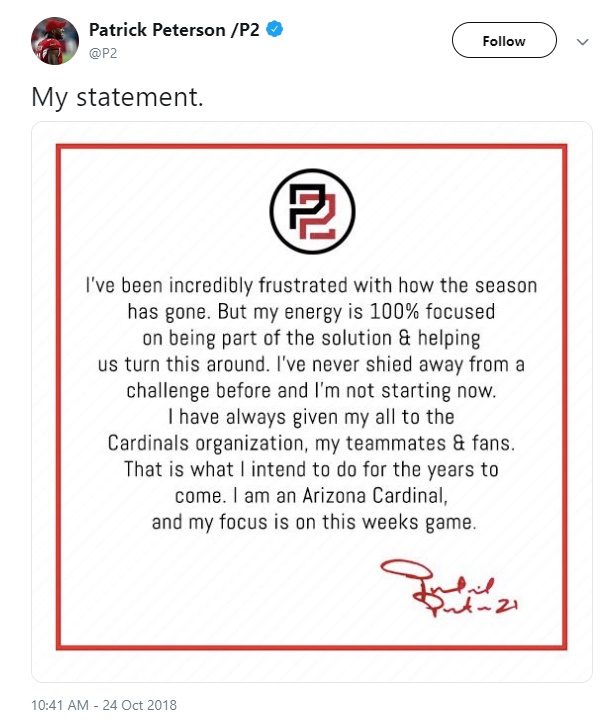 He signed a five-year extension worth $70 million in 2014 and has two years left on that deal.