Minnesota Vikings Lineman Everson Griffen has a lot of explaining to do!
Everson Griffen is said to be suffering a "personal health-related issue."
According to reports Vikings, Lineman Everson Griffen threatened to shoot someone at Minneapolis hotel. Read on to get all the details…
CelebNSports247.com has learned that Minnesota Vikings head coach Mike Zimmer head coach is trying to cover for Lineman Everson Griffen "personal health-related issue."
Vikings head coach Mike Zimmer revealed that Everson Griffen missed Sunday's surprising 27–6 home loss to the Buffalo Bills due to "a personal matter."
Here is what we've learned:
ABC 5 Eyewitness News reports that Everson Griffen was spotted pacing the lobby and threatening to "shoot someone."
It was said that at one point staff members moved to the back of the office while Griffen paced around in the lobby.
Griffen was reportedly not arrested at the scene after he apparently "left of his own accord," presumably before police arrived.
Though he was still held out Sunday, and the Vikings are reportedly treating this as a "personal health-related issue," states NFL Network's Tom Pelissero.
Pelissero reported on Twitter saying:
#Vikings DE Everson Griffen has been dealing for weeks with a serious, personal health-related issue, per sources. The team and his agents are helping him. A statement from GM Rick Spielman.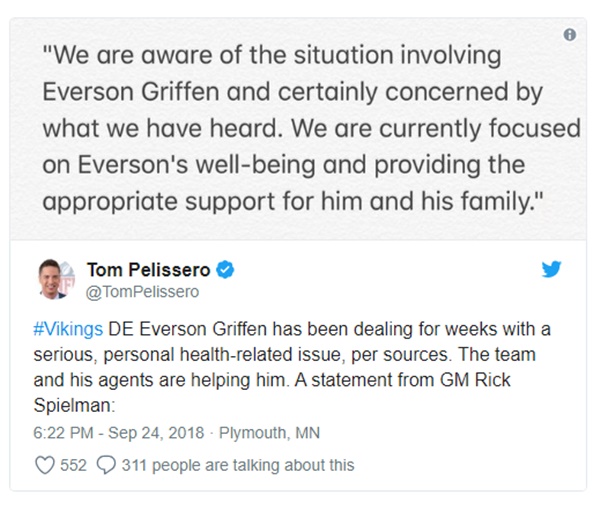 Griffen had reportedly missed three practices leading up to the game due to a knee injury.
He was listed as a non-participant at practice on the team's Monday injury report. The cause was listed as "knee/not injury related."