WTH? USFL Player Smoking Butt While Doing Drills At Practice???
If you are scratching your head on how a coach allowed one of his USFL player's smoking or keeping a butt in his mouth during practice…it is just questionable…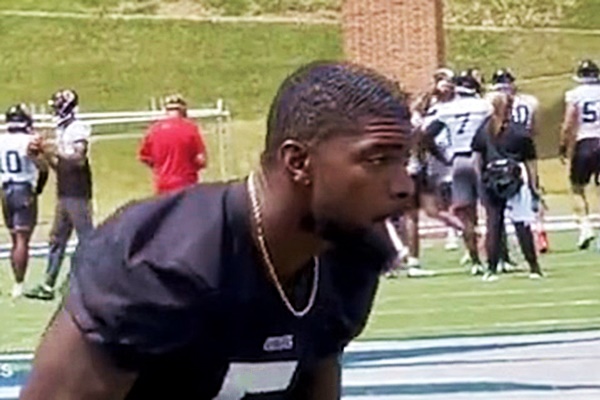 CelebnSports247.com got word via TotalProSports who posted the news first that USFL provided a scene right out of Adam Sandler's "The Longest Yard" this weekend.
According to the site, a member of the Houston Gamblers was spotted at practice today with what appeared to be a cigarette in his mouth.
The footage has since gone viral on social media, as many are wondering whether that was, in fact, a cigarette — and if it was, whether he was actually smoking it at the time.
It doesn't seem to be lit, but it was still in his mouth. Maybe he wanted the taste of tobacco in his mouth or something. Or maybe he was trying to stop chewing so he put the butt in his mouth to cut the habit.
Whatever it was, it's gross to see a United States Football League player that fine with a cigarette in his mouth.
Anyways, have a look and see if you can tell what exactly was in the player's mouth while he was taking part in team drills.
#Wow he's gonna regret #smoking while training on the field when he gets older #CelebnSports247 #news #Sports #football #checkitout #USFL https://t.co/ZAJ7N7G7rq

— CelebNSports247 (@CNS24_7) May 1, 2022
TPS made a comparison to Allenville Penitentiary prisoner Torres would be proud of him taken from the movie The Longest Yard.
What are your thoughts on the USFL Player Smoking?