The #BlackLiveMatter movement continues to grow and so far we are NOT seeing any change from police or the movement except tweets. So Colin Kaepernick made a statement for people who can't on Friday. He has received heavy criticism but his team supports his beliefs!!!
Find out why Colin Kaepernick Stands Up For #BlackLivesMatter and what he told reporters on the flip…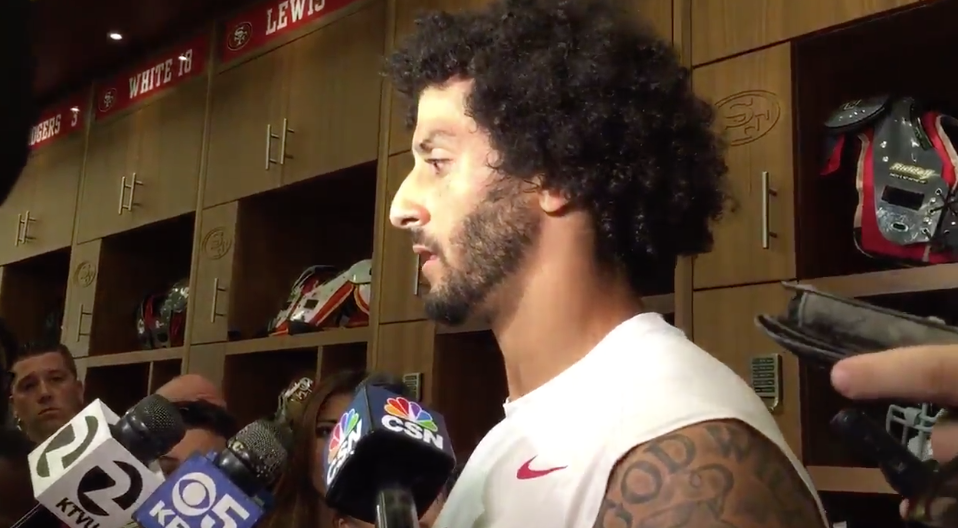 CelebNSports247.com has more news on the San Francisco quarterback, Colin Kaepernick who is taking a stand against opression and the police brutality that continues to happen in America.
We understand what Colin Kaepernick is doing, but his way of going about it is basically bum @ss backwards. No one understood him and instead he came off looking like a disrespectful player.  If you're going to make a statement, then maybe a press conference before the sit down on the national Anthem would have been heard louder if fans understood the reasoning behind his action.
Now you might be like the one fan who burned his Kaepernick Jersey, or you can listen to the reason behind the sit down. It's powerful and we all know the mainstream outlets will spin this some other way to make Colin look bad.
See, Colin was relentless spitting some knowledge and we have to admit, he has some pretty big balls, gotta at least respect his opinion. This has nothing to do with the flag or military at this point.
Checkout what Colin has to say:
#49ers Colin Kaepernick video Part 3 pic.twitter.com/HG22md3oDW

— Cam Inman (@CamInman) August 28, 2016
Colin Kaepernick video Part 5 pic.twitter.com/N7FAf0Fsj2

— Cam Inman (@CamInman) August 28, 2016
Another Colin Kaepernick video, this on how "conversations" about social issues won't be distraction to #49ers pic.twitter.com/1Jh7WmrlfE

— Cam Inman (@CamInman) August 29, 2016
Do you agree with Colin Kaepernick? We understand and we get what he is trying to say, but the sit down was a bit confusing. Maybe now people will understand why he did it.
What is your thoughts on Kaepernick?