Soccer superstar Cristiano Ronaldo, 32, is a four time daddy, since his girlfriend Georgina Rodriguez, 22 gave birth over the weekend.
Congrats goes out to Cristiano Ronaldo and Georgina Rodriguez on baby no 4. Read on…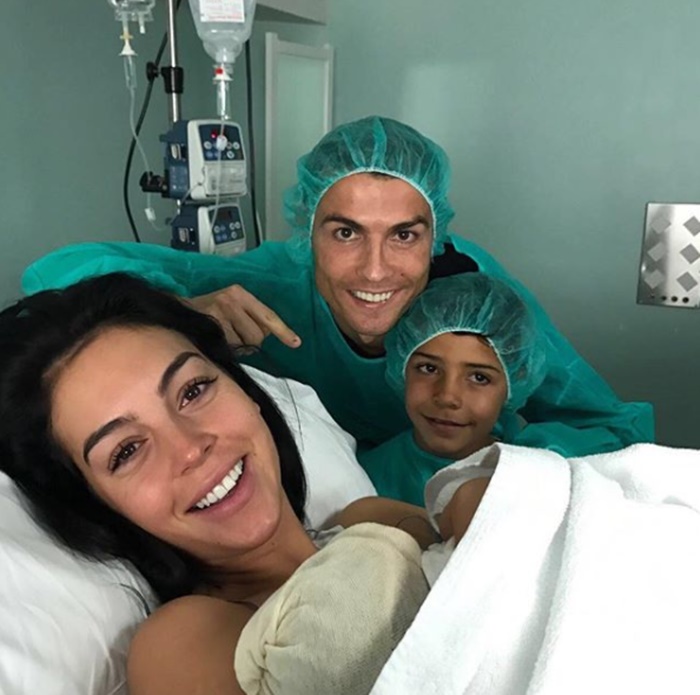 CelebNSports247.com got word early this morning that Georgina Rodriguez was taken to the hospital with Cristiano by her side.
Hours later Cristiano revealed via social media on Nov. 12 that Georgina had given birth to a baby girl.
He took to his Instagram account to announce the name of his baby girl. He also posted an adorable photo of himself, Georgina, Alana, and 7-year-old Cristiano Ronaldo Jr. in the hospital along with this message.
He writes:
"A Alana Martina acaba de nascer! Tanto a Geo como a Alana estão muito bem! Estamos todos muito felizes! ??"
Cristiano is already a father to three kids whom he had via surrogate. His kids names are Cristiano Ronaldo Jr. and twins Mateo and Eva Ronaldo.
[rpi]
This is his first organic pregnancy, meaning done the old fashion way (man and woman).
It appears Ronaldo is going to be a full time daddy when he's off the soccer field. Especially since his twins Mateo and Eva Ronaldo were born just months ago, in June. Alana Martina is the newest addition to his family.
Once again, congratulations to you both.
Thoughts?