We are still waiting to see where Dez Bryant will land on his feet since the Dallas Cowboys released star WR after 8 seasons. It seems the NFL keeps over-looking the wide receiver.
Dez Bryant has yet to find a new team for the 2018 season and beyond, but he revealed which coast he wanted to end up on. Read on…
CelebNSports247.com caught wind that Dez Bryant wants revenge and the opportunity to play the Cowboys twice a year.
If you've been following the Dez Bryant free agency tour over the past six weeks, you may have noticed that there hasn't been much to follow.
Since being cut by the Cowboys on April 13, the only one team (the Ravens) has shown any serious interest in Bryant.
The Ravens reportedly offered a three-year deal worth roughly $21 million, but Bryant decided he didn't want to play for them. It was said that he was holding out for the New York Giants, but its been crickets for him on the East coast.
Which leads us to his back up plan revealing that the former all-pro WR stated that he wanted to catch balls from QB Jimmy G in San Francisco.
Yes, Dez admitted he wants to sign with the 49ers, but shortly after his tweet, Bryant deleted it.
Take a look at the tweet/delete below: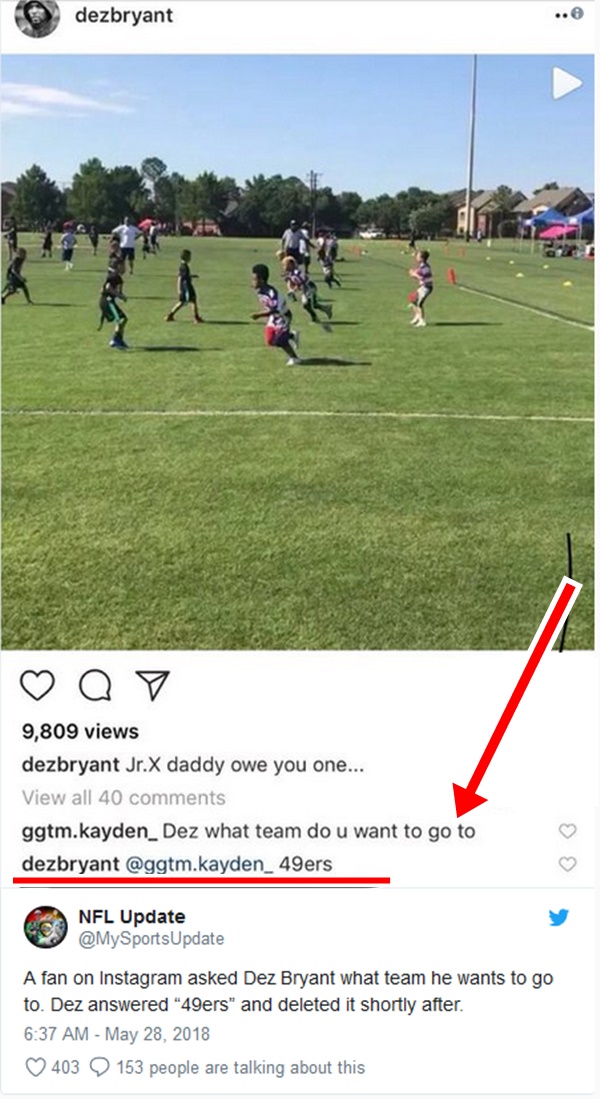 CBS Sports make a good point:
The biggest problem for Bryant is that the 49ers don't exactly have any need for an extra wide receiver right now, because they already have ELEVEN receivers on their roster. Not to mention, they just added two of those receivers in this year's draft in the form of second-round pick Dante Pettis and seventh-round pick Rickie James. The 49ers also have multiple veterans in guys like Pierre Garcon and Marquise Goodwin. From a pure numbers perspective, it just doesn't feel like there's room on the roster for Bryant.
Maybe Bryant should have a plan C?