Boston Celtics are now in an underwhelming 21-15 for the season, and can't afford to lose Kyrie Irving for any amount of time.
Unfortunately, Kyrie Irving will be out after scratching his cornea. Read on for details…
CelebNSports247.com reports Celtics coach Brad Stevens wasn't sure whether Kyrie Irving's injury could force him to miss any games.
Kyrie Irving suffered the injury in the fourth quarter as he and Spurs guard Marco Belinelli attempted to secure a rebound of Irving's missed 28-foot attempt. Belinelli swiped at the ball and hit Irving in the eye, causing the Celtics guard to stay down on the floor for a short time writhing in pain. – ESPN
Stevens took to Twitter to announce the news about Irving:
Kyrie has a scratched eye. So he'll have antibiotics for that. I don't know what that means beyond tonight.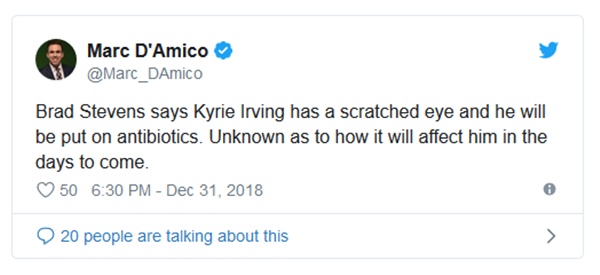 Irving addressed the media after the game wearing a pair of sunglasses.  When asked about the condition of his injury, Irving had a sarcastic response.
Apparently, Kyrie thought the question was stupid, so he clapped back at the journalist, saying:
I'm wearing sunglasses, so not too good. I'll be all right, though. [He] smacked the s— out of me. He just caught me pretty good.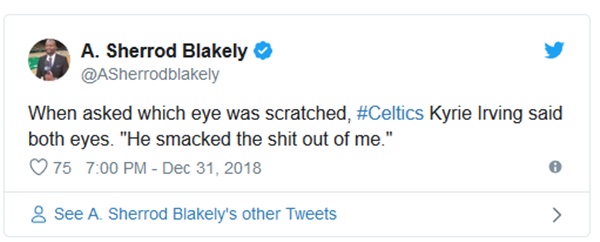 The Celetic vs Spurs game ended 2018 with a firework display. The San Antonio erupted for 46 points during the third frame against Boston, while shooting 19-of-25 from the floor. It marked the franchise's highest single-quarter point total in 25 years
Thoughts?
Kyrie took over the month of December averaging 24.5 PPG.

Looking back at his @biofreeze Peak Performance. pic.twitter.com/XiRmqczCVf

— Boston Celtics (@celtics) January 1, 2019