There is a lot going down with the Boston Red Sox after they announced that they had fired the president of baseball operations Dave Dombrowski on Sunday just one year after winning a World Series.
With that said, the Boston Red Sox are said to be looking to reduce payroll and ownership didn't think Dombrowski could get it done. Read on Red Sox J.D. Martinez + Trade Mookie Betts…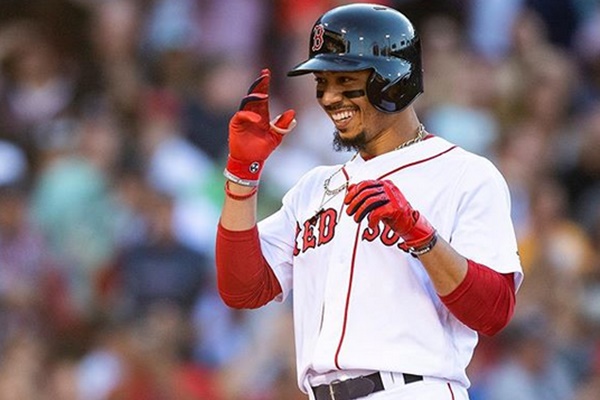 CelebNSports247.com has the latest developing news coming out of Boston about the Red Sox and it isn't sounding that good.
Here's what we've learned via USA Today's Bob Nightengale who claims Red Sox may cut J.D. Martinez + trade, Mookie Betts:
There is word now from Red Sox executives that they are changing direction, plan to cut payroll, let All-Star slugger J.D. Martinez leave if he opts out of his contract, even let reigning MVP Mookie Betts walk away as a free agent (if they don't trade him first), and didn't believe Dombrowski was capable of pulling it off.
According to Red Sox, this is their answer to reducing payroll for the MLB team.
The Red Sox apparently are thinking about letting J.D. Martinez walk and trading Mookie Betts before he gets a massive contract extension.
Boston entered 2019 with baseball's biggest Opening Day payroll at around $213 million.
By letting J.D. Martinez walk and move on from Mookie Betts would be dangerous moves for Boston.  Martinez is slashing .306/.383/.574 this year with 35 home runs, 94 RBI and an OPS of .957 in 132 games. He just turned 32 has sustained his success well and that's a ton of production to replace.
Mookie Betts is a 26-year-old perennial MVP candidate who has become the face of the franchise. The reigning American League MVP is slashing .290/.388/.522 with 27 home runs, 77 RBI an OPS or .910 and a top-10 fWAR of 6.1.
But who are we, Boston thinks they know what's best so let them screw up. It's on them at the end of the day.
This is a perfect recipe to PISS OFF Red Sox fans and isn't it about driving in fans to fill seats to see great players? Go ahead Boston go ahead an F'up the Red Sox. We don't care. SMH