Looks like Russell Westbrook will be a one-man show for the Oklahoma City Thunder just like he likes it.
Again, for the second time in three years, an All-Star teammate and MVP candidate could wait to leave. Read on as Russell Westbrook is left alone in Oklahoma City the way he likes it…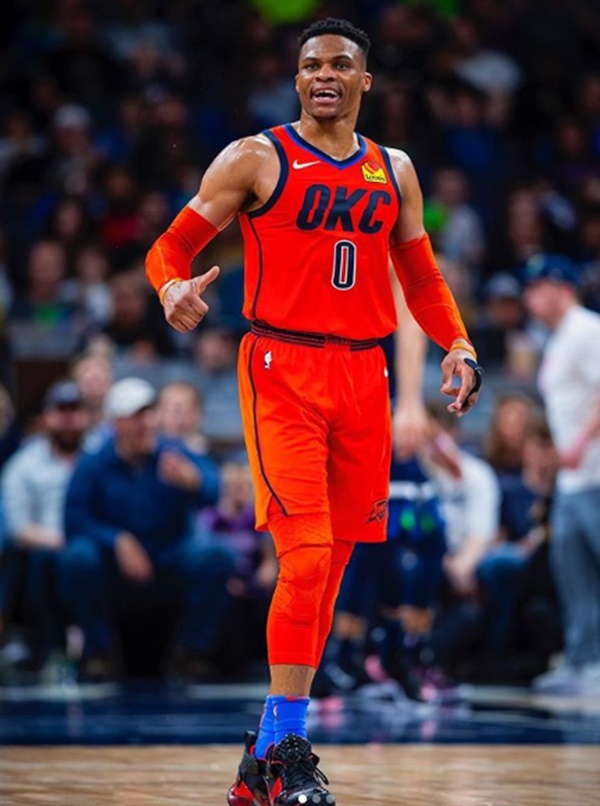 CelebNSports247.com reports that Paul George went to the Oklahoma City Thunder and asked for a trade, and they did just that.
Paul George demands a trade to get far far far away from Russell Westbrook. He ran straight for the hills and to the West Coast. George was the only player to run faster the Westbrook, but that was to run off the court and on to another team.
The 29-year-old got his wish and the Thunder sent him to the Los Angeles Clippers in exchange for an insane haul of draft picks.
Russell Westbrook was left asking, "is it me…Nah…it's him."
The Clippers gave up Danilo Gallinari and Shai Gilgeous-Alexander.
The Biglead reports:
George clearly wanted out of Oklahoma City just one year after signing a four-year, $137 million deal. It wasn't his on-court play that was the problem. George was an MVP finalist in 2019 and was named First-Team All-NBA for the first time. During the 2018-19 season, he averaged career-highs in points (28.0), rebounds (8.2), assists (4.1), steals (2.2) and minutes (36.9) per game. He flourished and even posted a career-best PER (23.32).

So why did he want out? Well, returning home to Los Angeles was likely a big part of the equation, but also teaming up with Kawhi Leonard was probably even more important.

In just two years with the Thunder, George realized what Kevin Durant had several years before: there is no path to a championship with Russell Westbrook.
Westbrook is a phenomenal individual player.