The San Francisco 49ers Causes Man To Have Seizure, that is what is being said by 49ers fan James Hilburn who had a seizure no thanks to Police and stadium staff!!!
CelebNMusic247.com has just got word that a man who suffers myoclonic dystonia and has an alert dog named Bear got in to a tussle with staff at the Niners-Cardinals game…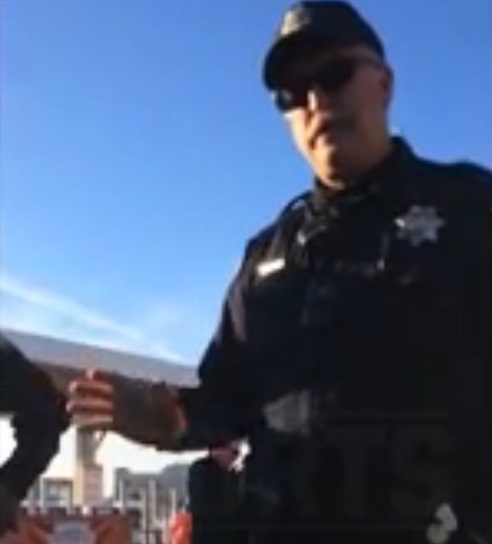 Did you hear about San Francisco 49ers Causing a Man To Have Seizure?
This is why paying attention and having common sense is all about, but for some reason Levi's Stadium staff where the 49ers and Cardinals were playing didn't pay attention to simple detail.
CelebNMusic247.com has learned that a San Francisco 49ers booted a fan and his service dog which made the man have a unnessessary seizure.
Now, James Hilburn, the man who has an alert dog, an Alaskan malamute named Bear, is suing after he and his dog had no problems entering the Niners-Cardinals game on November 29.
According to the lawsuit, the ticket taker let them in, no questions asked. In his suit, Hilburn says he suffers myoclonic dystonia … which causes seizures. Bear is trained to alert him and people nearby when one is about to hit.
Wait until you hear the disturbing details which makes you ask why someone wasn't smart enough to realize that Bear was an alert dog. Most of the time dogs like Bear wear a sign that says don't pet me, and has a medical symbol on him to alert that he's a special dog for his owner.
[rpi]
CelebNSports.com has this report:
In the lawsuit, James says once he entered the staidum, police and security guards surrounded him and said Bear was not allowed to be there — and the stressful situation triggered a seizure.

In the video Hilburn's friend shot, and you can hear Bear yelping a warning. Police and stadium staff attempted to get a shuttle to pick them up, but Hilburn declined. He did end up suffering, and had to be hospitalized, according to his lawyer Mark Thomas.

Hilburn wants the team to pay for violating the Americans with Disabilities Act (ADA).
Watch the shocking video via TMZ Sports that has the 49ers in a bad situation:
As for the 49ers, they do not comment on pending litigation.
What do you think about San Francisco 49ers Causing a Man To Have Seizure?