Oakland Raiders star Trent Brown, the highest-paid lineman in the NFL is being sued for allegedly beating the hell out of his girlfriend.
According to the woman behind the suit, Diorra Marzette-Sanders, this is NOT the first time he has gotten violent and physical with her. Read on for more details about Trent Brown Beating His Girlfriend…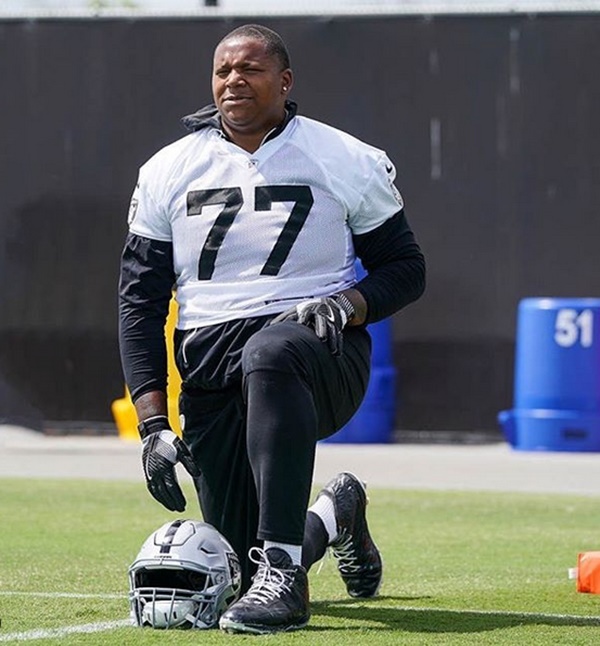 CelebNSports247.com has the latest NFL News regarding Trent Brown who first got violent with her at a restaurant in 2018 slapping her face during a heated argument and leaving her mouth bloody and face bruised.
Diorra Marzette-Sanders says she has a 9-month-old son with the 26-year-old NFL player Trent Brown.
In addition to the heated argument, she reveals that Brown also claims he left her at the restaurant to find her own way home at 4 AM. WTF???
She made sure to point out that Brown is 6'8″ and 350 pounds and extremely strong.
TMZ Sports reports:
Marzette-Sanders describes a 2019 incident where she told Brown she was going to leave with their son … and he replied, 'I'll shoot yo ass in the f–king head before you walk out the door with my son.'

Marzette-Sanders says Brown struck again in March 2019 … 'choking her out until she couldn't breathe and leaving a ring of bruises around her neck.

In April 2019, Marzette-Sanders says Brown slapped her in the face and punched her ribs.

She describes another violent incident in June 2019 where an argument over breakfast during physical and he allegedly slapped her in the face.

Marzette-Sanders says she finally called police and filed a report.

In her lawsuit, Marzette-Sanders included pictures of injuries she claims she suffered as a result of the alleged attacks.
Trent took to social media stating:
Brown just issued a statement adamantly DENYING the allegations he attacked Marzette-Sanders and vowing to clear his name.
I am aware that my ex-girlfriend has filed a civil suit against me. I deny the claims.
Brown said:
They are false.   believe in the court system where I will clear my name. I will not be making any further comment at this time."