Former Ohio State pass rusher Nick Bosa, arguably the best player in the 2019 NFL Draft, used to be a frequent tweeter, unafraid to speak his mind until now.
See, Nick Bosa is a top NFL Draft prospect and tweeting about Donald Trump and politics is NOT a smart move. In fact, he has now deleted all tweets about supporting Trump. Read on…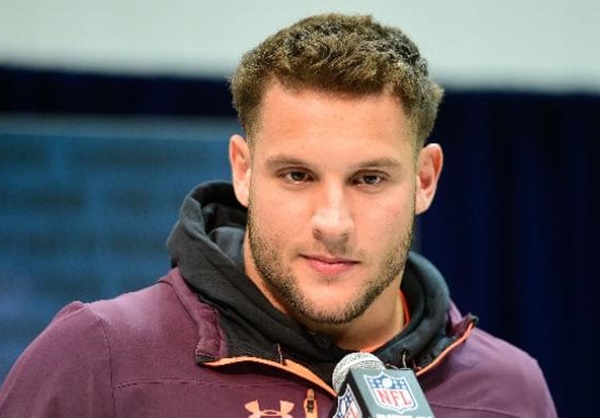 CelebNSports247.com reports that Nick Bosa says he's done tweeting about Donald Trump.
Nick Bosa announced his reason why and we're a bit taken by it, and not in a good way because he still feels that way. Nick is just not being vocal about it now.
See, the ex-Ohio State superstar explained why he has stopped being unafraid to speak his mind on being pro-Trump, politics, hating on Kaepernick, Beyonce and more…
I had to. There is a chance I might end up in San Francisco.
He "liked" controversial tweets from Tomi Lahren … called Trump a "GOAT" and also heavily backed the President's criticism of players who kneel for the national anthem.
He also posted Tweets like this in 2018 in support of President Donald Trump:
[Colin] Kaepernick is a clown" in 2016, and "Black Panther worst marvel movie of all time [sic]."
Now that he has a chance to be in the NFL, Nick is trying to erase his prejudice and racist past.
Can you say White Supremacist? Sorry to say, but we truly hope the San Francisco 49ers do a hard pass on Nick Bosa, we don't need his kind in California.
The only problem is that Niners GM John Lynch has said the team has a huge interest in Bosa — along with other top prospects Quinnen Williams, Josh Allen and Rashan Gary — calling them all "really good players."
Take a look at the tweets courtesy of BSO: